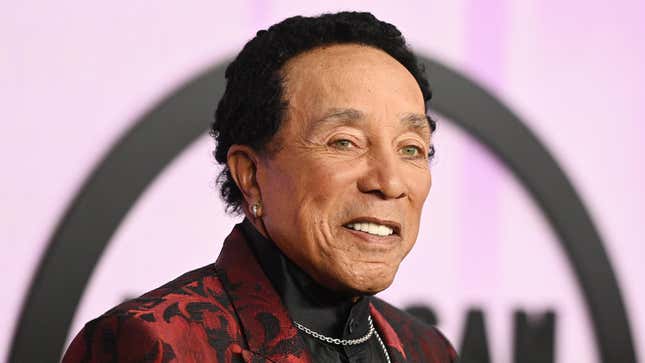 Grab your Aunties and Grandmamas! One of Motown's iconic artists Smokey Robinson is set to release his first solo studio album in nearly 10 years titled GASMS (yes, like "orgasms." Yes like "ear-gasms." Smokey is coming in hot, in 2023 it seems) this spring.
According to People, the "Cruisin'" singer made the announcement on Thursday ahead of the release of his new single "If We Don't Have Each Other," which is available to stream now. Speaking to the new release, Robinson said in a statement:
"I chose this song as the first single of my new album because it's different musically and has a slide dance feeling to it… which is different from what I've ever done before. It also has a current rhythm of today that I love, and I hope everyone else does too." Whether they do or not, it's clear Robinson still has enough moves for all us.
The release of this song also comes a week to the day before he's set to be honored alongside Motown founder and legendary producer Berry Gordy as the Recording Academy's 2023 MusiCares Persons of the Year on Feb. 3. The 32nd annual event provides essential support for MusiCares, the leading music charity providing music professionals health and human services across a spectrum of needs, per its official site. Expected performers include: Lalah Hathaway, The Isley Brothers, Samara Joy, John Legend, Jimmie Allen, PJ Morton, Valerie Simpson, Lionel Richie, The Temptations, Trombone Shorty, Chloe x Halle, Dionne Warwick and the Four Tops and more.
"I'm so excited for this year's MusiCares lineup. These artists are my friends and I not only love them, but I'm honored that they will be performing my music, along with hits from the Motown catalogue," Robinson expressed.
Added Harvey Mason jr., CEO of the Recording Academy: "We are thrilled to see such an incredible array of talented performers coming together to honor Smokey and Berry, two legends who have helped define modern music. This celebration spotlights MusiCares' ongoing commitment to serve all music people and we look forward to an unforgettable night."