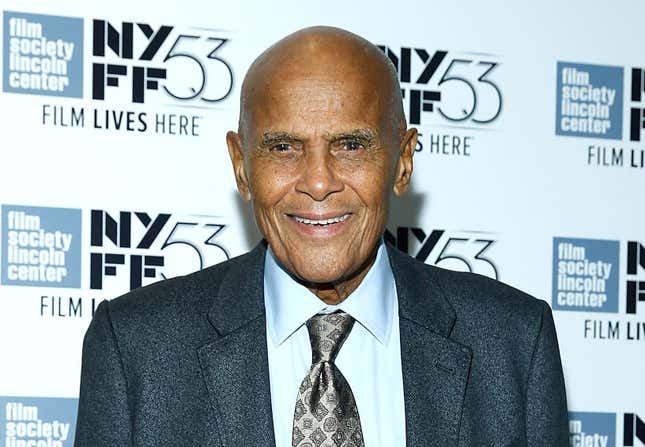 Harry Belafonte was a true giant in this world who left an impact that can't be duplicated. As a singer and actor, he was a groundbreaking performer in the '50s, '60s and '70s. He stood up for himself and other Black artists, paving the way for future generations. On Tuesday, the news of his passing at the age of 96 sent emotional shockwaves through the Black community. As we all reckon with our feelings, figures from politics, entertainment and media took to Twitter to express their thoughts on the icon.

Smokey Robinson Pays Tribute To Harry Belafonte, Recalls First Meeting
Congresswoman Maxine Waters tweeted, "Another superstar has just passed. My dear friend, Harry Belafonte, was an extraordinarily talented singer and performer. More than that, he was a civil rights activist who marched with Dr. Martin Luther King and worked with President Nelson Mandela to end Apartheid in South Africa. We will all miss his wisdom, his advice, and his huge giving spirit."
Sherilyn Ifill, Former President and Director-Counsel of NAACP Legal Defense Fund, tweeted, "The beauty. The integrity. The "shining Black manhood." We are so blessed to have seen the talent and leadership of #SidneyPoitier and #HarryBelafonte."
Civil rights leader Rev. Al Sharpton, who worked alongside Belafonte and shared photos of the two together, wrote, "I'm heartbroken at hearing of the death of Harry Belafonte, a true mentor & friend. I cherished the time he would give me & others to guide us & correct us. He was a history changing activist, a culture changing entertainer, & an unmatched intellectual. RIP & Power, Mr. B."
Author Keith Boykin wrote, "'About my own life, I have no complaints,' he wrote in his autobiography. 'Yet the problems faced by most Americans of color seem as dire and entrenched as they were half a century ago.' Rest in Peace. Rest in Power. Harry Belafonte."
Though it's common now to see actors and singers use their fame to advocate for issues they care about, it was not the norm in the '50s and '60s when Belafonte did it. It was dangerous for Black entertainers to speak out because they weren't just risking their careers, they weren't risking their lives. His inspiration as an activist is something many artists are celebrating.
Actor Jeffrey Wright wrote, "Harry Belafonte was a standard bearer, in the tradition of Robeson, for generational artistry and deeply informed & committed social & political engagement. Maybe the last of a great tribe. As smart as he was knockdown handsome. He met the moment thruout his life. What a man."
Singer Angelique Kidjo tweeted, "RIP @harrybelafonte You were the brightest star in every sense of that word. Your passion,love, knowledge and respect for Africa was unlimited. You have helped and supported so many from Miriam Makeba to Martin Luther King. Your wisdom made me strong. Your music inspired me."
In the media world, Belafonte's influence on the Black community is being noted in how he strived to pass his wisdom and experience on to the next generation. Journalists who had the opportunity to interview him are remembering their time with the legend.
Journalist/host Marc Lamont Hill tweeted, "Harry Belafonte set the standard for engaged, principled, and informed celebrity activism. His wisdom, courage, generosity, and consistency has been a model for so many of us. He was truly one of one. Rest Well, Mr. B."
Journalist Christiane Amanpour wrote, "May Harry Belafonte, the lionhearted civil rights hero, rest in peace. He inspired generations around the whole world in the struggle for non-violent resistance justice and change. We need his example now more than ever."
Author Tiffany Cross wrote, "'You can cage the singer…but not the song.' ~#HarryBelafonte What a legend. What an inspiration. It took great courage to fight white supremacy at the time and he did it with conviction. Rest in power."
Bernice King took time to remember how much he meant to her family, tweeting, "When I was a child, #HarryBelafonte showed up for my family in very compassionate ways. In fact, he paid for the babysitter for me and my siblings. Here he is mourning with my mother at the funeral service for my father at Morehouse College. I won't forget…Rest well, sir."
His contributions to the Black community and our history are immeasurable. Harry Belafonte was an icon and legend. We were lucky to have him as an entertainer and a leader.