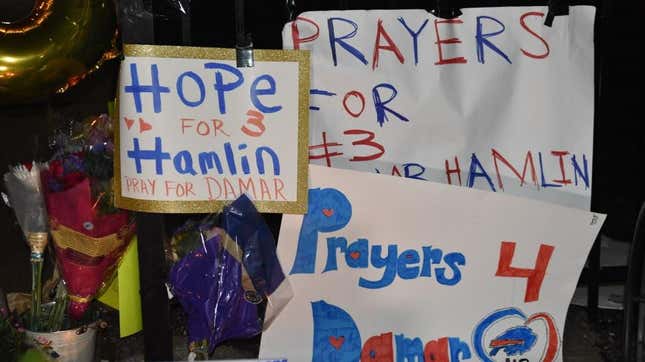 The NFL and sports world is still at a standstill as coaches, players and fans wait for updates on the health of second-year Buffalo Bills safety Damar Hamlin after he suffered a cardiac arrest after making a routine tackle against the Cincinnati Bengals on Monday Night Football.
Currently, Hamlin is still sedated and on a ventilator as doctors at the University of Cincinnati Medical Center continue to work toward getting the second-year NFL player to breathe on his own and ease the minds of everyone in his family and the sports world.
During an interview with CNN, Hamlin's uncle, Dorian Glenn, revealed more details about his and other family members' emotions after seeing the Bills' safety collapse on Monday against the Bengals.
Glen said, "We were in Pittsburgh watching it on TV and his little brother was there with us and when he saw his brother drop like that. When I tell you that I've never seen him cry or scream like that, like we were trying to calm him down to let him know, 'Yo it's okay, he'll get back up and get back in the game.'
He continued, "Next thing you know it's 10 minutes later and they're doing chest compressions. It's an half hour later and they're still not playing… When I say now we were all in the room crying, man we were all in tears man. I'm not a crier, but I've never cried so hard in my life. Just to know, like, my nephew basically died on the field and they brought him back to life."
Thankfully, ESPN's Coley Harvey has spoken with Damar's close friend Jordon Rooney and was told that "progress appears to be made" in the health of the Safety, although he could not get into specifics. Hamlin is still in critical condition.
According to Harvey, Jordon also made it clear that Damar was only resuscitated once and that was on the field at Paycor Stadium.

Although Monday night's huge game between the Bengals and Bills was canceled, the NFL has no plans to resume the game this week, and they shouldn't. Anything having to deal with playoff seeding, or the importance of on-field logistics seems frivolous now. Who cares about what seed teams are or how this affects NFL scheduling, all that matters is that Damar Hamlin wakes up and puts his family's mind at ease.
As Bomani Jones said in an interview with CNN, "it's like trying to make a safe cigarette," and it's unfortunate that the most popular sport in the United States led to one of the scariest incidents anyone has seen on live television.