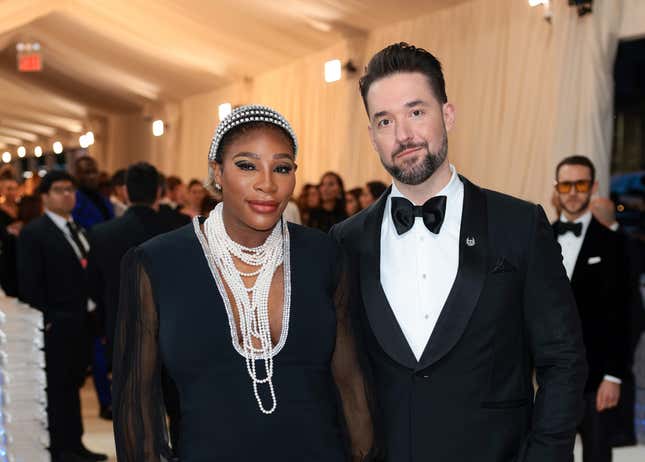 When you're the icon Serena Williams, your gender reveal isn't a small pink or blue cake party. The tennis superstar is currently expecting her second child with her husband, Alexis Ohanian. On Monday, the couple posted a YouTube video of their baby shower/gender reveal and it was just as spectacular as you think it was.
Sports Journalist Jemele Hill Plays That's So Random
The video starts with the 23-time Grand Slam champion preparing for the event while revealing that she's hoping to have another girl. "I'm a little nervous because I don't have any contingency plan if it turns out to be a boy," she said.
While his wife was nervously awaiting the news about Jelly Bean—their adorable name for the new baby—Ohanian had a little prank planned for his family: He decided to trick Serena and their five-year-old daughter Olympia with a yellow cake, instead of one that's pink or blue.
"I'm doing this because I want to troll her and Olympia into thinking that this is the reveal of Jelly Bean," he said. "She will cut into this cake and probably be disappointed and hopefully appreciate my troll. But, we'll see. I don't know if she's gonna be a professional about it. She might see this cake come out, roll her eyes, and say, 'This guy had one job and he gave me a goddamn cake gender reveal.' But we'll see. There's a reveal after the reveal."
Williams didn't seem overly upset about her husband's prank, but she did immediately try to smash cake into his face, so she's definitely planning her revenge. After the joke played out, Ohanian told their friends and family that there was a real reveal coming. "We are actually going to reveal Jelly Bean's sex. The way we're going to do it, though, is with a little style and some spectacular lights," Ohanian said. Everyone was then treated to a drone powered light show that ended with "Girl!" spelled out in the sky, as Serena, Alexis and Olympia cheered the happy news.