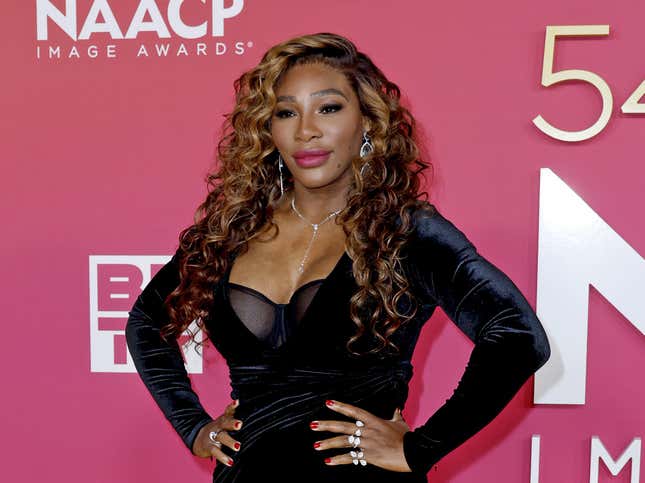 You have to love a magnificent Black queen who knows exactly how badass she is, and isn't afraid to tell the world.

A Look Inside The 2022 National Portrait Gala
As she settles into her retirement from tennis, Serena Williams finally has time to look back on her history-making career. On Tuesday, during its 2023 upfronts presentation, ESPN announced that the next chapter of its In the Arena series would focus on the tennis legend. Per a press release provided to The Root, In the Arena: Serena Williams is a docuseries "featuring firsthand perspective from Serena and key figures throughout her life."
Per the official synopsis: "Several of Serena's most significant Grand Slam tournaments and defining personal milestones are examined and decoded in detail. The series juxtaposes Serena's spectacular on-court achievements and cultural impact with dramatic personal challenges. Through it all, Serena fights to maintain her place atop the tennis world while juggling the transformational experience of starting a family."
Personally, my all-time favorite Serena moment came in the 2012 Olympics when she defeated her rival, Maria Sharapova, 6-0, 6-1 in the final. Seriously, if you've never seen this match go find it online. The 23-time Grand Slam winner completely dominates and dismantles the Russian. After the match, she celebrates by dancing on Center Court at the famed All England Lawn Tennis Club in London. I cannot wait to hear her talk about that moment.
The official ESPN Twitter account posted a short teaser for the series. It has a voiceover from Serena where she lets the whole world know how she felt about being the G.O.A.T.
"That target, that big giant red X that I couldn't see, but everyone else saw, started out as a curse. Everyone wanted to beat me. It became 'We don't care who wins, we just don't want her to win," Williams said in the video. "That target got to be also a blessing. These young women pushed me more than they ever knew. Because they wanted to beat me so bad, it made me better. So what I thought started out as a curse ended up making me Serena. So thank you."
This is the four-time Olympic gold medalist's second major announcement of the month. On May 1, while walking the red carpet at the Met Gala, she revealed that she and her husband Alexis Ohanian are expecting their second child.
The first adaptation of the series, Man in the Arena: Tom Brady, showcased the legendary NFL quarterback discussing his seven Super Bowl wins. Whether you like Brady or not, it was a fascinating look at what it takes to achieve that level of sustained greatness. Focusing this outing on Serena is brilliant, as her story has a much stronger cultural impact than his and will hold meaning for a wider audience.