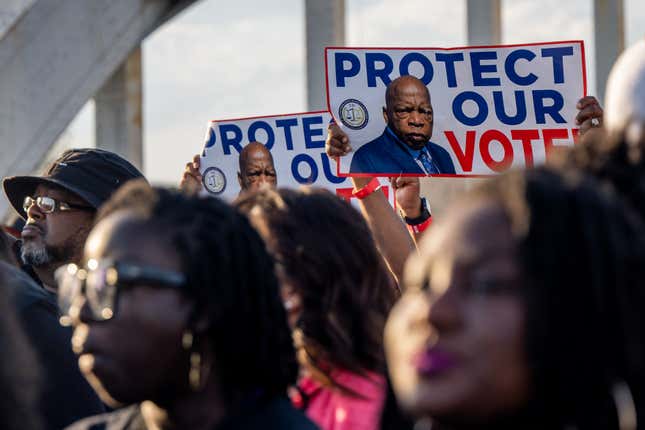 Alabama's Republican-led state legislature has officially gone rogue. After much anticipation, Alabama released a proposal for its congressional map that appears to directly violate a recent Supreme Court voting rights decision.
To back up a bit, last month, the Supreme Court ruled that Alabama's legislature violated the rights of Black voters by only drafting one majority Black district. (The state is 27 percent Black). The court ordered the state to redraw its congressional map to include two districts where Black voters were in the majority, "or something quite close to it."
As simple as this sounds, clearly someone over at the state legislature must have gotten their wires crossed. On Monday, the state legislature released a new map proposal that includes, you guessed it, only one Black majority district.
Throughout the week, there have been several proposed maps, none of which include two majority-Black districts. Alabama Democratic State Representative Chris England tweeted that the latest map proposal, which is being considered today, includes one congressional district that is roughly 51 percent Black and another district that is less than 40 percent Black.
For those doing the math at home, that map is far from the two majority Black districts "or close to it," mandated by the Supreme Court.
Naturally, voting rights activists and Democrats are not super pleased with the results. Former United States Attorney General Eric Holder called out Republican lawmakers in Alabama in a searing tweet.
"Republicans in Alabama put forth a map that both defies the Supreme Court and minimizes the power of black voters," wrote Holder. "Arrogance combined with racial animus - too typical of the shameful history of that party in that state. We remain in the fight for fairness."
Maps like these, diluting the power of Black voters, are hardly novel. Governor Ron DeSantis has waged an all-out war on Black voters through racial gerrymandering in Florida. Voting rights groups sued Florida over their latest map, arguing it was "racially discriminatory." In Alabama, it seems likely we'll see litigation challenging the validity of their congressional map.