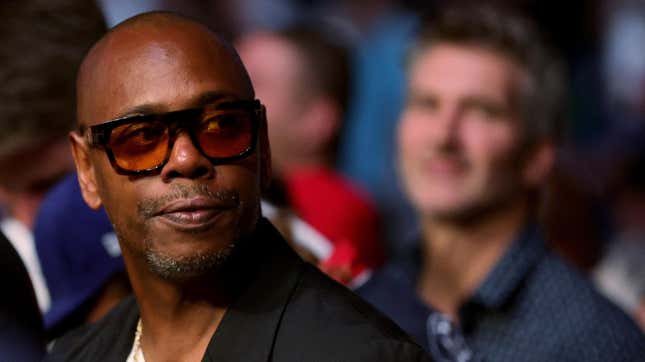 Updated as of 10am ET on 11/11/2022: As is usual protocol when a celeb is set to host Saturday Night Live, a mashup promo video of them announcing their stint gets released days before their appearance. Such was the case with upcoming host Dave Chappelle, who did his iteration of the video alongside comedian and SNL star Ego Nwodim, as well as musical guests Talib Kweli and Yasiin Bey of Black Star.
Dave Chappelle Tackled on Stage in Hollywood
The first two cuts were pretty standard SNL jokes, but it was the last cut where Chappelle seemingly hinted at the arguably controversial nature of his forthcoming appearance on the show.
"Hi, Im Dave Chappelle and I'm hosting SNL this week with musical guest, Black Star," Chappelle says.
"Wait, we're doing it live?" asks Nwodim.
"Of course," answers Chappelle.
"With you?" Nwodim adds.
"Obviously," Chappelle retorts.
"In this news cycle?" Nwodim asks finally, to which Chappelle does a short pause before replying curtly: "Yup."
By "news cycle," I'm pretty sure Nwodim's referring to both the hubub surrounding this year's midterm election results and the recent online chatter that some SNL writers were allegedly boycotting due to Chappelle showing up. That story continues below.
The original story is as follows.
Just days before comedian Dave Chappelle is set to hit the stage for his third stint at hosting Saturday Night Live this weekend, some writers are reportedly planning to boycott in response to his appearance.
Per Page Six, a handful of staff writers are allegedly opting out of creating content for this episode, with an inside source telling the outlet: "They're not going to do the show. But none of the actors are boycotting." This move, of course, might make sense considering the slew of continuous backlash Chappelle received following his transphobic and homophobic comments present in his now infamous Netflix comedy special, The Closer, released last year.
Though they weren't named specifically as one of the writers who'd be boycotting, SNL scribe Celeste Yim previously expressed their disdain for that type of content, writing in a since-deleted Instagram story post: "I'm trans and non-binary. I use they/them pronouns. Transphobia is murder and it should be condemned."
However, a rep for Chappelle cast doubt on those claims of a boycott, explaining that that energy wasn't present when the comedian met with writers earlier this week to prepare for Saturday.
"There was no evidence of a boycott," the rep said. "The room was full of writers. They all pitched ideas and they seemed very excited about it. Dave is looking to have some fun."
As previously reported by The Root, Chappelle will be hosting for a third time this weekend. Rappers Yasin Bey and Talib Kweli of Black Star will serve as musical guests. Make sure you set your DVRs (if you want) to catch him on this Saturday's episode of SNL at 11:30pm ET only on NBC.