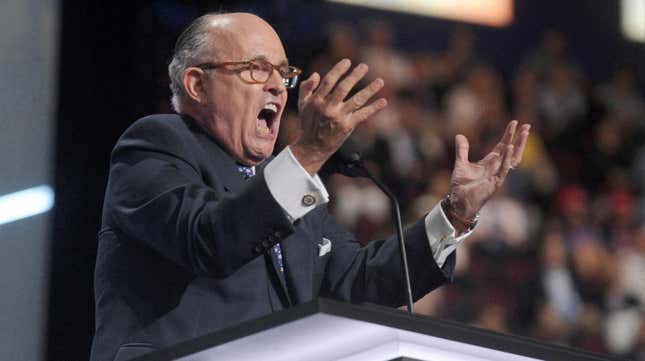 Rudy Giuliani, who once served as Donald Trump's attorney, has conceded he made defamatory statements about Ruby Freeman and Shaye Moss—two Black Georgia election workers—in an attempt to settle their lawsuit against him and to satisfy a judge who thought about sanctioning him.
In the Tuesday night filing, Giuliani stated he does not contest Moss and Freeman's claims that he made slanderous statements about them following the 2020 election. The pair counted ballots in Fulton County, Ga. However, in the filing, he also stated that the false claims about vote-rigging in the 2020 presidential election were constitutionally protected speech and did not damage Freeman and Moss.
In a defamation lawsuit that was filed in 2021, the women said that they became targets of ridiculous conspiracy theories pushed by Giuliani and employees of the right-wing news network One America News. While Giuliani refuted the claims, One America News settled with Freeman and Moss for an undisclosed amount in 2022. The federal judge, Beryl A. Howell of the DC District Court, is still reviewing Tuesday's filings from Giuliani.
On Wednesday, Howell recognized Giuliani's concessions in the lawsuit and ordered him to pay more of Moss and Freeman's legal fees, after he was already ordered Giuliani to pay the pair $90,000. It's also unknown how criminal prosecutors from the Justice Department's special counsel's office, who have questioned Giuliani, will react to his revelations in the lawsuit.
Attorneys for Moss and Freeman will respond next week in court to several of Giuliani's latest statements. The duo's lead attorney Michael J. Gottlieb, a partner at Willkie, Farr & Gallagher, stated on Wednesday that Giuliani's concessions were a "major milestone" in the case.
"Giuliani's stipulation concedes what we have always known to be true—Ruby Freeman and Shaye Moss honorably performed their civic duties in the 2020 presidential election in full compliance with the law; and the allegations of election fraud he and former-President Trump made against them have been false since day one," he explained.