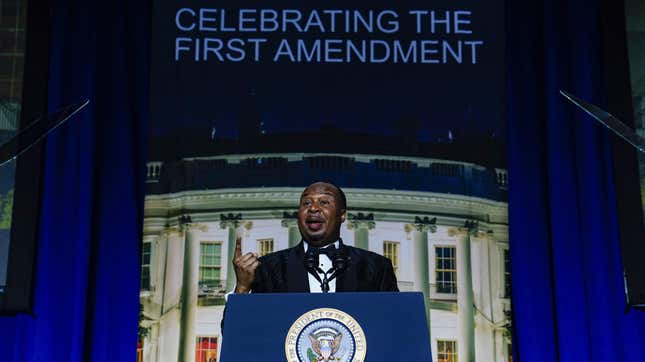 The White House Correspondents' Association held their annual dinner on Saturday, with comedian Roy Wood Jr. taking the podium to deliver a biting speech. Wood is following in Trevor Noah's footsteps, as Noah was the special guest to deliver comedic commentary at last year's event.
Barack Obama Hosts Working: What We Do All Day, Our TV Pick This Week
The current Daily Show correspondent had a lot to say, like what he thinks about the outrage in France over pension reform. "They rioted because they didn't want to work until 64. Meanwhile in America we have an 80-year-old man begging us for four more years of work," Wood stated in reference to President Biden's bid for reelection. He then remarked: "Let me finish the job. That's not a campaign slogan, that's a plea."
Wood also called out the obvious double standard when it comes to the critiques Vice President Kamala Harris often receives. "I think the most insulting scandal of the Biden administration was placed at the feet of our Madam Vice President," Wood said. "The scandal of: what does Kamala do?" Which is a disrespectful question. That's a disrespectful question, because nobody ever asked that question of the vice president until a woman got the job.
"I don't know what Mike Pence did. The only thing I know about Mike Pence is that he's really good at playing hide-and-seek at the Capitol." Wood then touched on how conservatives are using their power to get rid of Black history with calculated attacks on critical race theory. "Anti-CRT policies are an attack on Black history and an attempt to erase the contributions of Black people," Wood remarked. "A lot of Black people wouldn't mind some of that erasure… as long as that Black person is Clarence Thomas."
Wood addressed the news of Tucker Carlson and Don Lemon losing their media platforms. "The untouchable Tucker Carlson is out of a job. Some people celebrate it. To Tucker's staff, I want you to know that I know what you're feeling. I work at The Daily Show so I too have been blindsided by the sudden departure of the host of a fake-news-program," he said referring to former host Trevor Noah recently leaving his position.
"Speaking of a**holes, Don Lemon is out of a job," Wood continued. "Don Lemon. My dog, Don Lemon. Don Lemon released a statement saying he got fired from CNN, then CNN released a statement saying that they offered Don a meeting. They had to part ways, because Don Lemon can't even accurately report a story about Don Lemon."
Wood's rousing bit at the dinner was not only witty, but contained a plethora of sharp political observations that many Americans have noticed themselves.