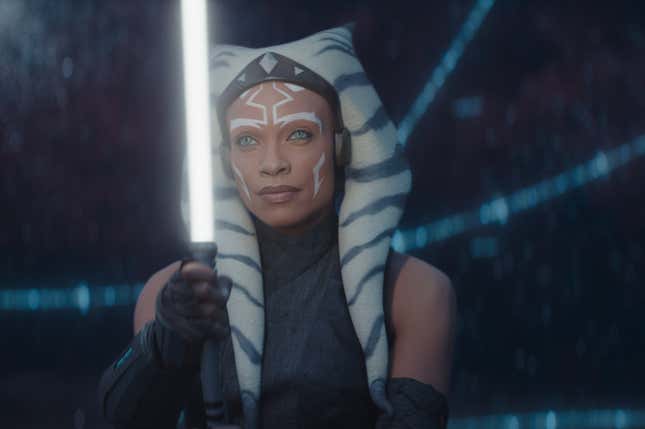 For Black Star Wars fans, the live-action Disney+ series have opened doors to new characters and more diverse worlds. As much as we've loved these fresh additions to the universe, there's one fan favorite we couldn't wait to see make their live-action debut: Ahsoka Tano. Shortly after Rosario Dawson made her first appearance as Ahsoka in The Mandalorian "Chapter 13: The Jedi," it was announced that Ahsoka would get her own series and we would finally see a Black woman in a leading role in the Star Wars universe. Before Star Wars: Ahsoka premieres Tuesday, Aug. 22 on Disney+, let's take a deep dive into the character, her influence and what role she plays in the current post-Return of the Jedi story arc.

Prime Video's Harlem & Fleishman Is In Trouble Star, Juani Feliz, Plays That's So Random
Who is Ahsoka?
Ahsoka is a force-sensitive Togruta who was introduced in the 2008 film The Clone Wars. Yoda appointed her as Anakin Skywalker's Padawan apprentice, likely trying to teach him a lesson by giving him an overeager, defiant young Jedi. They eventually developed a close relationship, but after being accused of a crime she didn't commit, and hunted across the galaxy, Ahsoka lost faith in the Jedi and left the Order.
Her strong sense of morals, outside the box strategies and spectacular fighting skills made her one of the Rebellion's most important assets. There's an artistry in the way she wields her lightsabers. The fact that she was strong enough to leave the Jedi Order and forge her own path in protecting the galaxy is why she survived Order 66 and the war with the Empire.
Why Is She So Important?
When she was originally introduced, the character wasn't well-received by fans. Over time, she became one of the franchise's most popular characters, building a huge following among female fans. She's a favorite for cosplayers. Ashley Eckstein has voiced Ahsoka since her debut, so there was an assumption that she would be the one to bring her to life on screen. However, casting Dawson as one of Star Wars' most important heroes shows that franchise bosses are truly committed to creating a more inclusive universe.
Over the years, characters like The Rise of Skywalker's Jannah and Obi-Wan Kenobi's Reva have had crucial supporting roles, but we've never seen a Black woman lead a movie or series. And yes, I know that Ahsoka is not Black, but that doesn't mean I'm not going to celebrate the impact of this character or series.
For sci-fi/fantasy fans this moment with Rosario Dawson as Ahsoka is just as important as Halle Bailey as Ariel and Yara Shahidi as Tinkerbell. It shows everyone that we belong in these worlds and fandoms.
Where Does Star Wars: Ahsoka Fit In?
When we last saw Ahsoka in the live-action universe, she was convincing Luke to let Grogu choose between becoming a Jedi or reuniting with his guardian, Mandalorian bounty hunter Din Djarin.
In Star Wars: Ahsoka she is searching for Grand Admiral Thrawn and her missing friend, Ezra Bridger. She feels there's a deeper conspiracy at work behind various mysterious problems in the galaxy. The Mandalorian Season 3 revealed that the Empire isn't completely defeated and is secretly working to regain its foothold in the galaxy. Based on the events of the sequel film trilogy, we already know how this plays out, but it's still fascinating to see how the heroes that destroyed the Empire couldn't stop the rise of the First Order.
It's also worth noting that at the most recent Star Wars Celebration fan convention, executive producer Dave Filoni revealed that a movie tying together all the stories of The Mandalorian, The Book of Boba Fett and Ahsoka is in the early planning stages.
Star Wars: Ahsoka premieres Aug. 22 at 9 p.m. ET/6 p.m. PT on Disney+, with new episodes debuting every Tuesday at 9 p.m. ET/6 p.m. PT.