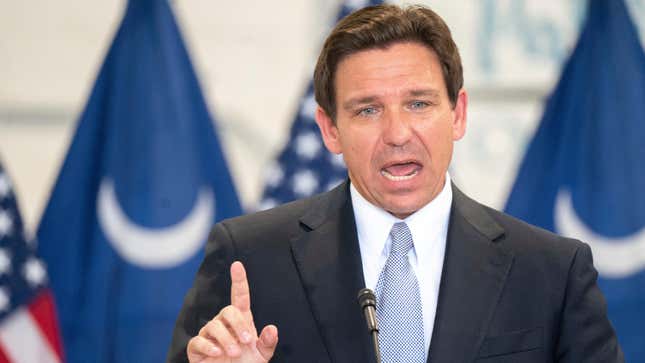 In a new interview with CNN, Florida Governor Ron DeSantis tried to defend his flailing presidential campaign. In May, DeSantis announced that he would be running for president in 2024 and all but guaranteed he would beat out Donald Trump for the Republican nomination.
Can Donald Trump Serve As President From Prison?
Though he has always been friendly with conservative outlets, DeSantis agreed to sit with network personality Jake Tapper. DeSantis is behind Trump in the polls and even though his campaign is flailing, he was adamant about not agitating Trump supporters as he will most likely need their support.
When asked about Trump's legal woes, DeSantis skirted around the question. "Here's the problem. This country is going down the road of criminalizing political differences. I think that's wrong," he remarked. "When you're going after somebody on the other side of the political spectrum, if you're stretching statutes to try to criminalize political disagreements, that is wrong."
DeSantis continued: "Now, look, this is all speculation. But I think we've gone down the road in this country of trying to criminalize differences in politics, rather than saying, 'OK, you don't like somebody? Then defeat them in the election rather than trying to use the justice system.'"
DeSantis did condemn Manhattan District Attorney Alvin Bragg who indicted Trump in June over allegations he made about the former president silencing an adult film star with hush money and covering it up. "If that was not Trump," that case would likely not have been brought against a normal civilian," DeSantis said.
When it came to the role Trump played in the January 6 insurrection, DeSantis insisted that the former president shouldn't receive any jail time. "I don't think it serves us good to have a presidential election focused on what happened four years ago in January. And so I want to focus on looking forward. I don't want to look back. … I hope he doesn't get charged. I don't think it'll be good for the country."
In addition, the man who has become a pillar in the war on wokeness was asked about it and his response was also vague. "Not everyone really knows what wokeness is. I mean, I've defined it, but a lotta people who rail against wokeness can't even define it," DeSantis stated.
The interview, which was about 15 minutes long, showed that DeSantis will play along with mainstream media as long as he's not truly being challenged by it.