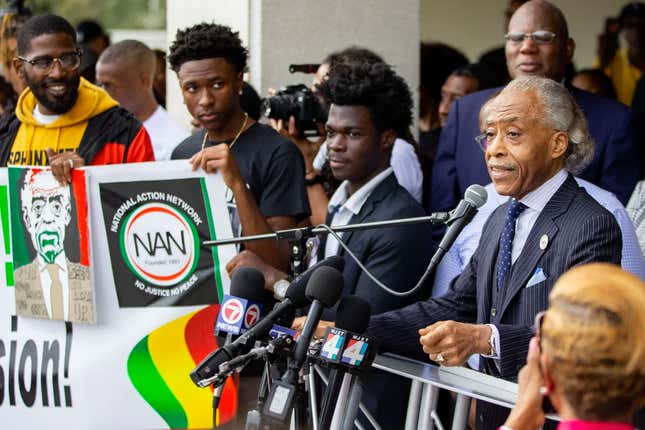 Though Florida Governor Ron DeSantis has set his sights on erasing Black history from statewide curriculum, Black folks refuse to take this lying down. Hundreds of Black preachers, activists and legislators protested on Wednesday, February 15 with a march from Bethel Missionary Baptist Church in Tallahassee to the Capitol building.

Loudmouth & MSNBC's Rev. Al Sharpton Plays That's So Random
The march was led by Al Sharpton and Tallahassee church leader Rev. R.B. Holmes. As DeSantis continues his attacks on getting rid of diversity, equity and inclusion initiatives in education by rejecting the College Board's AP African American Studies class and getting rid of college diversity programs, protestors threatened to pull students from Florida schools and universities.
Sharpton talked how about truly dangerous these actions are. "Our children need to know the whole story. Not to not only know how bad you were, but to know how strong they are," he said. "If you would study history, governor, you would have known to mess with us and education always ends in your defeat."
Sharpton also encouraged the marginalized communities in Florida to register to vote and referenced the bible's story of David and Goliath. "We'll march together, we'll fight together, we got our sling shots! We got our sling shots! We got our sling shots!" he professed.
As DeSantis continues to receive criticism for his actions, he recently threatened to drop all AP classes in Florida. "There are probably some other vendors who may be able to do that job as good or maybe even a lot better," he said.
On Wednesday, a spokeswoman for the Florida Department of Education stated that the College Board had not yet submitted the official course framework for additional review. Over the last year, DeSantis signed the infamous " Don't Say Gay" bill which bars lessons on sexual orientation or gender identity.
He also approved the Stop WOKE Act, to restrict certain conversations around race in schools and businesses.