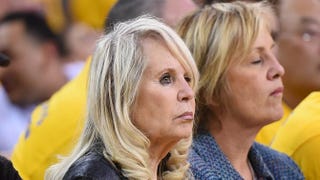 The NBA's wish to have the Los Angeles Clippers owned by anyone not named Sterling is getting closer to becoming reality as reports have Shelly Sterling close to signing a deal presumably as early as this week, the New York Daily News reports.
Shelly Sterling is now facilitating the deal after her "estranged" husband, disgraced former owner Donald Sterling, surrendered his stake in the team to his wife.
Microsoft CEO Steve Ballmer may be the Clippers head-office front-runner. According to unnamed sources, TMZ reported that Shelly Sterling met with Ballmer and that the computer genius submitted a "very competitive offer" to buy the team.
Over the next few days Shelly Sterling has plans to meet with a few other groups, the gossip site reports.  
While the team's worth has been estimated as somewhere close to $1 billion, Donald Sterling's lawyer reportedly told NBC Sports that offers have been as high as $2.5 billion.
Read more at the New York Daily News and TMZ.