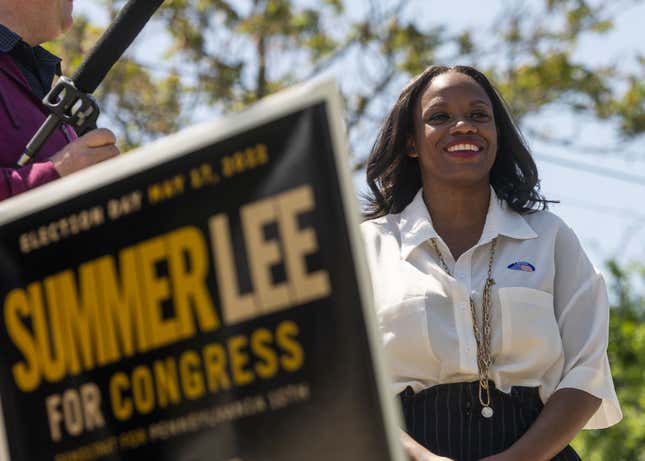 [Editor's Note: Don't miss Part one and Part two of our series with Representative Cori Bush and Representative Ayanna Pressley.]
American Ninja Warrior: Season 15 Is Our TV Pick of The Week
In our three-part women's history month series, The Root sat down with the next generation of Black congresswomen shaking things up on Capitol Hill. You'll hear from Representatives Cori Bush, Ayanna Pressley, and Summer Lee . Each of them will break down how it feels to be the first Black woman to represent their state in Congress, their path to the Hill, and their plans to reimagine the role of politics.
Who Is Representative Summer Lee?
It's no secret Progressive Congresswoman Summer Lee faced an uphill battle in her race for Pennsylvania's 12th district.
The American Israel Public Affairs Committee (AIPAC) spent over $2 million in an attempt to squeeze Lee out of the primary. When that didn't work, they spent an additional$1 million on advertisements on behalf of Lee's general election opponent, Republican Mike Doyle.
"How radical is summer lee?" a disembodied voice asks in one ad, "Let her tell you." Images of conservative buzzwords like "abolish prisons" and "defund the police" flash behind Lee as the voice runs through her "radical stances."
The attacks weren't exactly original. But the fact that AIPAC's Super PAC poured millions into trying to defeat a Democratic candidate was headline-grabbing. Especially since (sorry if this is a spoiler) Lee won anyway, making history as the first Black woman to represent Pennsylvania in Congress.
So who exactly is the 35-year-old progressive who, against the odds, will now represent the Pittsburgh area where she grew-up?
Well, the first thing you should know is personal questions aren't her favorite. "I've grown accustomed to de-centering myself and centering the people I'm fighting for," admits Lee.
As the daughter of a single mother who worked multiple jobs to keep a roof over their head, Lee doesn't have the typical Congressional backstory. (Seriously, most members of Congress are millionaires.) The issues she fights for are the issues she's lived, says Lee, whether that's growing up in a community with poor air quality, having to use welfare benefits, or taking on large amounts of student debt.
"I don't come into politics with a mask on," says Lee. "I'm not pretending to relate to things that I've not actually lived in real life."
The political is personal to the young Congresswoman, who has championed Medicare For All, The Green New Deal, campaign finance reform, and student debt relief. "These things are important to me because it's me who I'm fighting for," she says. "I'm fighting for my family. It's my whole community that I'm fighting for."
"We're still fighting to bend this institution to work for other Black women to work for brown folks and marginalized folks."
Taking pride in who you are, doesn't necessarily make navigating a space like Congress any easier. "As a Black woman, I don't have the luxury of just thinking about myself or the luxury or the comfort of being in a space that's meant for me or a space that's been created for me,"says Lee.
Lee isn't the only Congresswoman breaking barriers as the first Black woman to represent her state in Congress. There's Jennifer McClellan in Virginia, Ayanna Pressley in Massachusetts, and Cori Bush in Missouri, to name some of the more recent victories. But Lee says that being the first is about a lot more than winning an election.
"We still have so many glass ceilings that we're breaking," says Lee, "because we're still fighting to bend this institution to work for other Black women to work for brown folks and marginalized folks."
Trying to change things from the inside is complicated, says Lee. "Because we come here, promising to do things differently, but that means that there are very few models we can actually use," she says.
Thankfully, Lee says she's found people in Congress to lean-on. "To see Ayanna Pressley to See Cori Bush," says Lee, "and how they've navigated, it has been such an incredible help not just to me but truly to my entire staff who have been assisted by their staffers."
Organizer Shouldn't Be a Dirty Word
Before Lee had a staff, she was just a young attorney who'd witnessed something she couldn't turn her back on.
After graduating from Howard Law School in 2015, Lee was working as a labor and political organizer back home when her high school caught national attention. In 2017, a video surfaced of school officials shocking a Black student with a stun gun. Lee went to her first board meeting shortly after the incident, and was disturbed by the lack of action by the members.
While many people would have let it to go (it wasn't as if Lee had a child at the school), instead she and her friends decided to do something about it. Lee encouraged her friend, a parent at the school, to run, and Lee successfully spearheaded her write-in campaign.
After that, she was approached by the local Democratic Socialists of America to run for the state House, winning 60 percent of the vote against a 20-year-incumbent. And in 2022, Lee became the first Black woman to represent Pennsylvania in Congress.
But even as a sitting member of Congress, her organizing roots aren't something she's looking to put behind her. "I believe that I'm still an organizer, that's not something that you just leave behind," she says.
Lee says she's aware that some of her colleagues in Congress might look down on her for calling herself an organizer. "But the reality is, is that nothing that we have in this nation could have come without the organizing work, without the activism, without the struggle," she says.
What Does Legacy Look Like For Summer Lee?
Coming into the minority party, Lee is under no illusions that Democrats will be able to push through their entire policy agenda. For now, she's focused on serving her constituents and being accessible to them.
But that doesn't mean she hasn't thought about the future. "Everybody wants to be the person who gets an incredible piece of legislation. I'm no different," she says. "All of us are racing to be a part of a Medicare for All, to be a part of a Green New Deal, and I hope I'm here for that moment."
But legacy is something more profound than that, says Lee; it's changing the system in ways that make it possible for those policies to be a reality. "I would hope that my legacy is leaving the place better than I got it," she says.