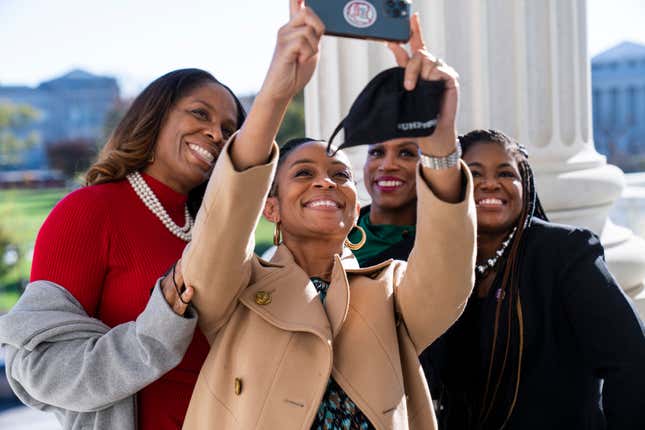 We've all read the troubling headlines linking chemical hair straighteners such as relaxers to an increased risk of uterine cancer. And while it's pretty easy to go into panic mode and tune out of the news, over on Capitol Hill two Black congresswomen are digging for answers.
In an exclusive letter obtained by The Root, Representatives Ayanna Pressley (D-MA) and Shontel Brown (D-OH) asked the Food and Drug Administration to review the safety of chemical straighteners.
"We write to request the United States Food and Drug Administration (FDA) conduct a thorough and transparent investigation to determine whether publicly available chemical hair straightening products contain carcinogens that lead to a higher risk of uterine cancer," writes Pressley and Brown. "Black women use these products at a higher rate than others and could be disproportionately impacted. In order to protect public health, we urge the FDA to reevaluate the safety of these products."
Pressley, who opened up publicly to The Root about having alopecia in 2020, knows all about the pressure placed on Black women to have their hair look a certain way. The fact that this pressure could seriously damage our health needs to be investigated, say Pressley and Brown.
"As a result of anti-Black hair sentiment, Black women have been unfairly subjected to scrutiny and forced to navigate the extreme politicization of hair," they write. "Hence, generations of Black women have adapted by straightening hair in an attempt to achieve social and economic advancement. Manufactures of chemical straighteners have gained enormous profits, but recent findings unveil potentially significant negative health consequences associated with these products."
The research about the potential health impacts of chemical straighteners hasn't been pretty. In October, the National Institute of Health released a study showing that people who frequently used chemical straighteners (more than four times a year) were over twice as likely to develop uterine cancer as people who didn't use them.
But you don't just have to look at general studies linking chemical straighteners to cancer to be concerned about the types of hair products marketed to Black women.
A separate study from the Harvard T.H. Chan School of Public Health found that harmful chemicals were present in 50 percent of hair products marketed to Black women compared to just 7 percent of products marketed to non-Black women.
Rates of uterine cancer are on the rise, particularly among Black women. And a March report from The American College of Obstetricians found that Black women were twice as likely to die from uterine cancer as white women.
It's still far too soon to lay those disparities at the feet of chemical relaxers, but Pressley and Brown believe that if these products are a part of the problem, the public needs to be made aware.
"Consumers need to be reassured that the cosmetic products they use do not threaten their health," write Pressley and Brown. "It is critical that the agency act quickly to address these legitimate concerns."