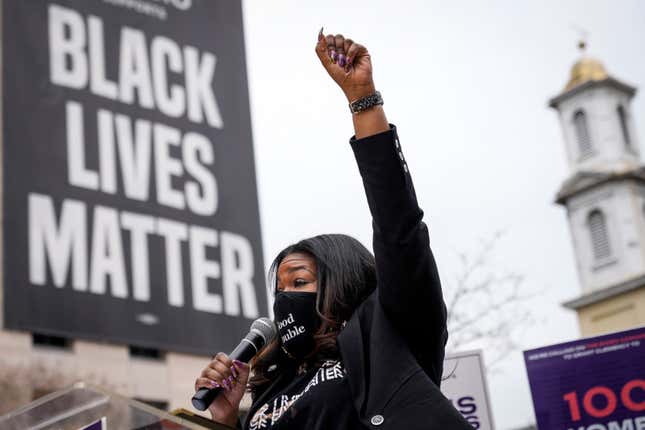 In our three-part women's history month series, The Root sat down with the next generation of Black congresswomen shaking things up on Capitol Hill. You'll hear from Representatives Cori Bush, Ayanna Pressley, and Summer Lee . Each of them will break down how it feels to be the first Black woman to represent their state in Congress, their path to the Hill, and their plans to reimagine the role of politics.
This Juneteenth We Revisit The Anderson .Paak BLM Track "Lockdown"
Cori Bush: From Ferguson to Congress
Trigger Warning: This story includes mentions of domestic violence.
There are plenty of places to start if you want to understand what drove Cori Bush, a 46-year-old St. Louis, Missouri native, to become the first Black Congresswoman from Missouri.
In a way, St. Louis county politics is a family affair for Bush. Her father, Alderman Errol Bush, served as mayor of Northwoods, a small city in St. Louis County, that would one day be a part of Bush's district. Building Black political power was a core part of the elder-Bush's political eethos and Bush never forgot the lessons she learned at a young age at her father's side.
But if you really want to understand Bush's journey to Congress, the best place to start isn't her childhood in Northwoods, it's on the streets of Ferguson, Mo.
In 2014, in the aftermath of the fatal shooting of 18-year-old Michael Brown at the hands of police officer Darren Wilson, hundreds of activists descended upon Ferguson. Bush was among them.
"I haven't forgotten what it was like to be there," Bush tells The Root. "We didn't know... that it was the beginning of a movement. We just thought we were out trying to get justice."
Every day she woke up wondering whether she or her friends would get beaten by the police or if they'd have enough money to scrape by for a subway sandwich to split between the group.
400 days later, when the dust cleared and the news crews made their way home, there was no justice for Michael Brown. Darren Wilson was found not guilty.
Bush and her friends lost that fight, but the Black Lives Matter movement was born. In that moment, Bush knew that if she was going to make a difference, the movement needed someone on the inside. Specifically, someone like her.
"I realized that to achieve our mission for change, we needed to replace those elected officials who fail to do what is in their power to save lives when they have the chance," she says. "We needed to take the movement to the halls of Congress."
In 2016, Bush launched an unsuccessful run for Senate. She ran again in 2018 for the House seat she now occupies, this time losing to Democrat William Lacy Clay.
"When I lost, and then I lost again, something in me knew I had to keep going because the mission was not complete," she says. "Giving up on the mission to save lives was just not an option."
Her determination paid off, and in her third race for political office in 2020, Bush defeated the incumbent, Clay, and became the first Black woman to represent Missouri in Congress.
Governing Like an Organizer
Being a Black woman and an organizer impacts every aspect of Bush's work in Congress. "That type of organizing is the foundation of who I am as a politician. And so, everything I do, I start from that place," she says.
A large part of Bush's leadership strategy has been to learn from the mistakes she witnessed politicians make when she was an activist, whether that wasn't taking bold enough stances or not listening to the people on the ground.
"I said that if I was ever elected I wanted to make sure that I was not that person," says Bush. "I wanted to make sure that those doing the deep work are the ones at the table."
You can catch glimpses of her activist roots in other ways. In 2021, Bush rolled up an orange sleeping bag and slept on the steps of the U.S. Capitol in protest of the end of the pandemic eviction freeze. Even as it rained down on her, Bush didn't budge until President Biden and then-House Speaker Nancy Pelosi agreed to continue the freeze, protecting millions of Americans from potentially losing their homes.
"I've walked through in my head...what were the things that I needed and what did I not have access to."
It wasn't just politics for Bush. She knew what it was like to be evicted from her home.
At 20 years old, Bush had moved into her first apartment. "I was so proud of my very first apartment because I got it on my own," she says.
She couldn't afford furniture and rent, so her mother went to a thrift store to buy her a bed. "And then I got a table from somewhere for the kitchen, and that's all I had," she says. "But, I was happy."
But the walls came crashing down after a breakup with her abusive boyfriend turned deadly. "He choked me out and left me for dead," says Bush.
She isn't sure how long she was unconscious; it could have been a day, maybe more. But she remembers changing the locks. "When he came back to the home, and he realized the door was locked, and I had changed the locks, he was angry," she says. "He busted out all of my windows."
Because of the property damage, Bush's landlord moved to evict her. She packed all her belongings into trash bags and left. "I didn't even take the table or the bed with me because I had no way to move it, it was so abrupt," Bush says.
It wasn't the last time Bush would face eviction. As a young mother, Bush, her husband, and her two children lived out of their car for several months.
Those memories inform how she legislates and how she uses her voice. "I've walked through in my head mentally like what were the things that I needed and what did what did I not have access to and what could have been beneficial in that moment," she says.
Thinking through how to help survivors without inadvertently pushing for policies that harm them is central to Bush's ethos as a lawmaker.
Housing justice is a large part of that strategy. Outside of forcing lawmakers' hands on the Capitol steps, Bush also sponsored a resolution to to put an end to the "unhoused crisis by 2025" and make housing a human right.
But none of that means anything if people don't know about the available resources, says Bush.
"We have to make sure that the information is out in the community where the people who need it the most are able to access that information."
What Does Cori Bush Want For Her Legacy?
Bush knows that for many people, legacy means having your name carved into stone for everyone to see for decades to come. But as she drives past the gilded names etched into the sides of buildings in Washington, D.C. they rarely ring a bell.
"A lot of people spend a lot of time getting names on buildings so that generations to come people will remember those names," she says. "I see it differently."
Bush knows that dismantling broader interconnected issues like white supremacy, police violence, and housing, health and education inequality, can't be done by just one person, especially without the help of the people who currently uphold the status quo. But that doesn't stop her from trying. And if she can change things for just one person, well, that would be one hell of a legacy.
"I want my legacy to be that I changed someone's life so much," says Bush. "To where their lives are changed, and their children's children's lives are changed."