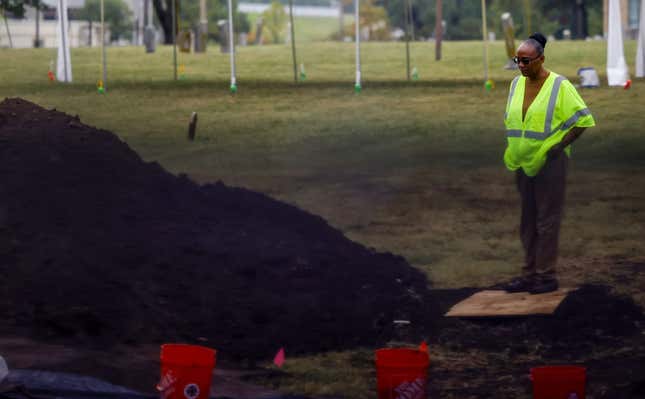 The horror of 1921 is still haunting Black families as archeologists continue to excavate the remains of those who were slaughtered in the Tulsa Race Massacre. The latest set of remains to be discovered can be traced back to the tragedy, yet still leaving hundreds unaccounted for.

Small Town Horror Story: The Mississippi Burning of Three Anti-Segregationists
Oklahoma archeologist Kary Stackelbeck said a total of 22 sets of remains were found in the Oaklawn Cemetery, but the two to be exhumed could be traced to the massacre by funeral home records and death certificates, according to The Associated Press. The simple, wood coffins distinguished the potential victims of the massacre from other deceased loved ones found in "fancier" coffins, she said. Both sets of remains are anticipated to match the profiles of adults but the genders are currently undetermined.
The Tulsa Race Massacre was the result of an angry white mob unleashing terror on the community of Greenwood over a rumor of a Black man assaulting a white woman. The rioters destroyed homes and businesses, killed families and set the town ablaze. The violence was so intense, the governor sought intervention from the National Guard.
The estimated number of deaths from the incident was 300 but it took over 100 years for plans to be made to locate the remains of the unidentified victims and bring closure to their descendants.
Read more from AP News:
Previous searches have resulted in 66 sets of remains located and 22 sent to Intermountain Forensic in Salt Lake City in an effort to identify them. Of those 22, six sets of remains have produced genetic genealogy profiles that have been connected to potential surnames and locations of interest, according to Tulsa Mayor G.T. Bynum. Investigators have tracked the surnames associated with the bodies to at least seven states: North Carolina, Georgia, Texas, Mississippi, Louisiana, Oklahoma and Alabama.

Bynum, who first proposed looking for the victims in 2018, and later budgeted $100,000 to fund it after previous searches failed to find victims, said at the beginning of the current excavation that trying to find people who were killed and buried more than 100 years ago is a challenge.
Recently, a lawsuit seeking reparations filed by the three remaining survivors of the massacre was dismissed. According to The New York Times, the total property loss from the 1920s could've amounted to $27 million today.
The report says the survivors are appealing the ruling. It's shameful that they still haven't received justice after all this time.