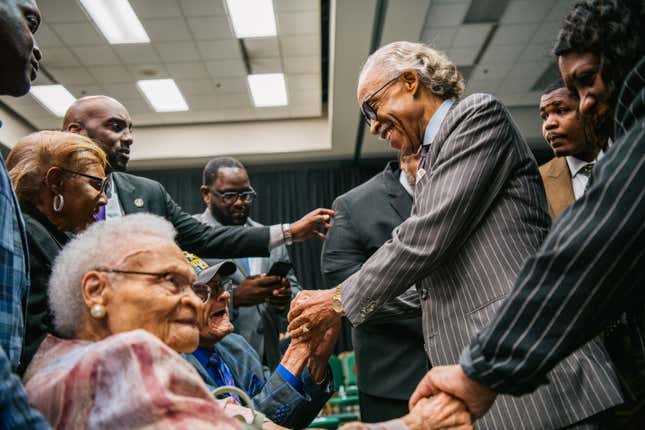 Updated 08/08/2023 at 1:50 p.m. ET
Despite a significant setback, the 1921 Tulsa Race massacre survivors and their descendants are continuing their fight for reparations. On Friday, the group filed an appeal with the Oklahoma Supreme Court, urging the court to re-evaluate their case.
Comedian London Hughes Talks New Book, Parents Watching Her Very Sexual Comedy, & Beyoncé
Last month, an Oklahoma judge dismissed a lawsuit brought on behalf of the last three survivors of the massacre seeking reparations for the crimes against them and the lasting harm to their descendants. Tulsa County District Court Judge Caroline Wall dismissed the survivors' calls for reparations, siding with the defense's argument that the survivors could not prove "individualized injury." This finding flew in the face of some of what we know of the case, including the fact that the family home of one of the survivors, Lessie E. Benningfield Randle, was looted and destroyed during the massacre.
For those unfamiliar with the Tulsa Race Massacre, in the summer of 1921, white rioters aided by city and state officials looted and burned the affluent Black community in the Greenwood District of Tulsa. The district, known as "Black Wall Street," was leveled. An estimated 800 people were injured and 300 were killed. The story of the Tulsa Massacre had mostly been lost to history. But for the remaining survivors and their families the bloody aftermath of the riots still looms large. 
"We stand on the shoulders of so many," Damario Solomon-Simmons, civil rights attorney and founder of the Justice for Greenwood Foundation told NBC News. "The thousands that suffered the massacre and the hundreds that have been fighting for justice since that time."
The victims of the Tulsa Massacre have had some relief. Last year, Ed Mitzen, a New York-based philanthropist donated $1 million to the survivors. However, many argue that true reparations needs to come from the city of Tulsa that allowed the massacre to occur.