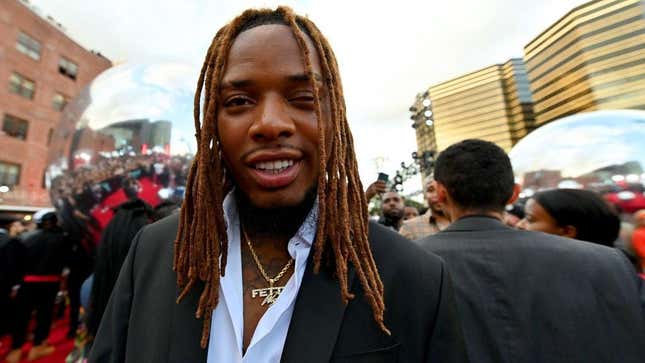 Despite having one of the most viral songs on social media in 2022, "Sweet Yamz," rapper Fetty Wap will still have to face the music in 2023.
Chuck D's Fight The Power: How Hip Hop Changed The World Is Our TV Pick
In August, the New Jersey rapper pleaded guilty to conspiracy to possess and distribute 500 grams or more of cocaine in an interstate drug trafficking case, for which he was arrested in October 2021. As a result, he's likely to spend at least the next five years in prison and a potential maximum of 40 years. Before that, Fetty Wap was set to be released on a $500,000 bond, but a judge sent him back to jail after he was heard threatening to kill a man during a FaceTime call in 2021, which violated the terms of his pretrial release in the drug conspiracy case.
Originally scheduled to be sentenced on Jan. 18, 2023, the U.S. Probation Department asked Judge Joanna Seybert to postpone the hearing and as a result, the proceedings will not take place until March 9, according to AllHipHop.
Born Willie Junior Maxwell II, the New Jersey rapper was one of six men indicted for their involvement in the interstate drug trafficking ring. When he was arrested in October 2021, District Attorney Timothy D. Sini said, "These defendants ran a multimillion-dollar bicoastal drug distribution organization with Suffolk County as their home base."
He continued, "They were wholesale drug dealers who pumped massive quantities of narcotics into our communities. As our investigation revealed, they would frequently use cutting agents to process just one of those kilograms of drugs into as many as four even before it was distributed to lower-level dealers, so the magnitude of this operation was enormous."
At one point during the mid-2010s, Fetty was one of the hottest rappers in the music industry after dropping the hit singles "Trap Queen" and "My Way" in 2015, the former of which reached the second spot on the Billboard Hot 100 in May 2015. Since then, he's continued to release music, but it has not resonated with fans the way I think he expected. Recently, he gained some traction thanks to "Sweet Yamz" becoming a viral hit on TikTok, but it's not enough to keep him out of jail.