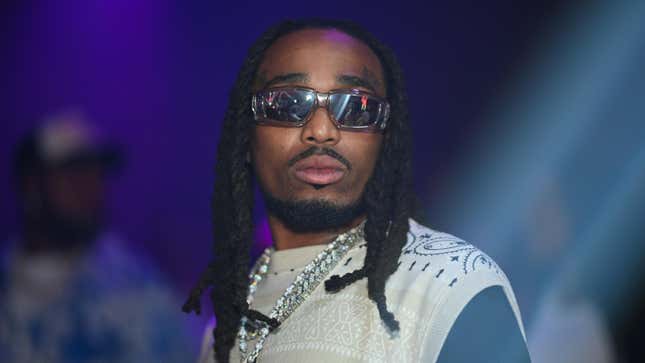 Migos rapper Quavo is speaking out in his first major interview following the death of fellow group member and nephew Takeoff.

During a conversation with Jamie Crawford-Walker posted to the "Hotel Lobby" rapper's YouTube channel, Quavo revealed how he's been dealing since his relative's passing, noting that he sometimes cries himself to sleep over the grief.
"I miss him a lot and I love him," Quavo shared. "He know I love him. That's what we always know. So when you see me and you see me smiling or something like that, you don't gotta never think I forgot about him or I'll forget about him. I think about him all the time. Sometimes I cry myself to sleep. And that's it. I just know he's here. If I can't feel him, I just know he's around."
Later, when talking about his upcoming album Rocket Power, he explained how the project is fueled by the loss of Takeoff, bottling up his emotions and pain and pulling on fuel from up above—hence the reasoning for the album's title. Quavo shared that Take will be featured on the album, noting that there were "a couple unreleased verses" he added to it.
He also revealed that a posthumous album of Takeoff is set to drop, adding that there are nearly 1,000 unreleased songs to choose from and enough music from his late nephew to last the next 10-15 years.

"I want to keep his stuff very, very sacred right now for his project," he explained. "I don't wanna be pulling the stuff and then we get to his project and [we don't] know what to do. Knowing him, he want his shit right."
When asked if he'd found a new purpose in the wake of his former group member's passing, Quavo added, "I'm grown, I'm a grown man, and I just feel like I'm here for a reason. And once I get my job done, we all gotta go. I'm just here til' the job is done, so I can get back with my boy."
As previously reported by The Root, the "Bad and Boujee" rapper was shot and killed outside a bowling alley in Houston back in November 2022. He was 28 years old. His death sent shockwaves throughout the hip-hop community as he was beloved, supremely talented, and an innocent bystander during the tragic ordeal. As one-third of the popular group Migos—which comprised of the late rapper, Quavo and cousin Offset—Takeoff's death sent the group into further disarray following the devastating news. He was laid to rest on November 11, 2022 in Atlanta.