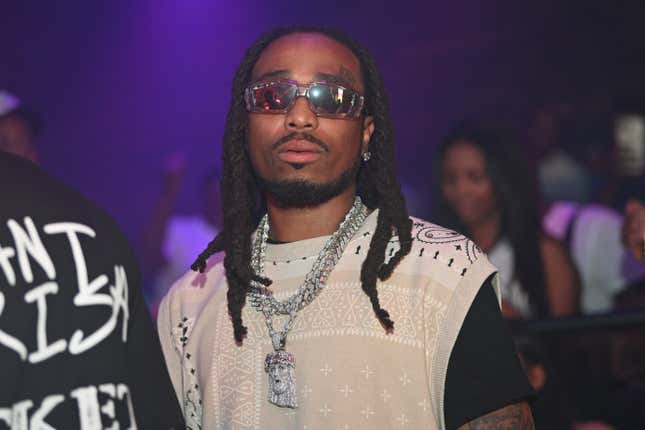 Usually when people go on yachts, the last thing anyone expects is to potentially be caught up in an armed robbery, but that's exactly what happened to Migos rapper Quavo.
Per Page Six, over the weekend, the "T-Shirt" rapper was somehow caught in the cross hairs of an armed robbery in Miami, though his exact involvement isn't unknown at this point.
Reportedly, two individuals became "'very aggressive' toward the captain and his crew when they informed them that the time on their boat rental was running out." Things eventually escalated to the point where the men were allegedly making verbal threats and demanded a refund from the captain.
Page Six has more:
The captain alleged to police that one of the males even threatened to "kill" him and "throw him off the boat," at one point removing the captain's wallet and phone from his pocket. The owner of the boat notified law enforcement upon hearing of the alleged incident, the report states, noting that police had "several males detained" pending arrival to the scene.

The police report confirmed that 32-year-old Quavo (whose real name is Quavious Keyate Marshall) was aboard the yacht at the time of the alleged incident. However, it's unclear what his involvement was at this time.
Additionally, Quavo was seen at one point with his hands zip-tied behind his back but he was later released as there were no arrests made.
"[Police] let [Quavo] go later and he and his entourage left in these big black SUVs with blacked out windows," a source told Page Six before noting that Quavo was also joined by a bodyguard and a handful of women.