Progressive Jewish leaders have a simple message for President Trump in the wake of the tragic shooting that left 11 people dead at the Tree of Life synagogue: Don't bother coming to Pittsburgh until you fully denounce white nationalism. Oh, and stop being an absolute racist, xenophobe who hates refugees.

According to The Washington Post, "11 members of the Pittsburgh affiliate of Bend the Arc, a national organization for progressive Jews focused on social justice," penned an open letter to Donald Trump Sunday, calling the shooting the deadliest attack on Jews in U.S. history.
"For the past three years your words and your policies have emboldened a growing white nationalist movement," the Jewish leaders wrote. "You yourself called the murderer evil, but yesterday's violence is the direct culmination of your influence."
The letter continued: "Our Jewish community is not the only group you have targeted. You have also deliberately undermined the safety of people of color, Muslims, LGBTQ people, and people with disabilities. Yesterday's massacre is not the first act of terror you incited against a minority group in our country."
The White House did not respond to the Post's request for comment because they don't care.
G/O Media may get a commission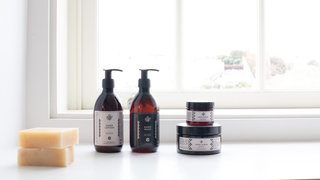 Exfoliate and Hydrate
The Handmade Soap Company
Here's how Vox recapped the shooting that also left several people injured.
On Saturday, a gunman opened fire at the Tree of Life synagogue, killing 11 people and injuring six others, including four police officers. He has been charged with 29 federal crimes, including hate crimes, in addition to 36 local charges.

In his social media posts, the assailant made frequent anti-Semitic posts and said he believed Jews were at fault for helping transport members of the migrant caravans from Central America, which Trump has been stoking fears about for weeks. (He believed Trump was a "globalist" and surrounded by too many Jewish people.)

Trump tweeted that the shooting was "evil" and an "assault on humanity" and called for ending anti-Semitism and uniting to conquer hate. He also said he would travel to Pittsburgh. But local Jewish leaders aren't buying it.

The most powerful parts of the letter to Trump asking him to stay away are four lines written in bold, interspersed throughout the letter:

Thus far, more than 20,000 people have signed on to the letter.

"We feel like there have been multiple communities under attack in the United States from the vitriol that the president has been spreading," Josh Friedman, one of the leaders of Bend the Arc's Pittsburgh chapter, told the Washington Post. "It was the Jewish community's turn. Blowback from his words came and cost people's lives, and we said enough is enough."
Vox notes that Bend the Arc "is a progressive group and partisan organization; part of its mission is to hold politicians accountable if they 'enable the immoral agenda of the Trump administration and the Republican Party.'"
But not all Jewish leaders have urged the hater-in-chief to stay away from Pittsburgh. Vox notes that "A Tree of Life rabbi said more than once on television on Monday that Trump was welcome to visit."