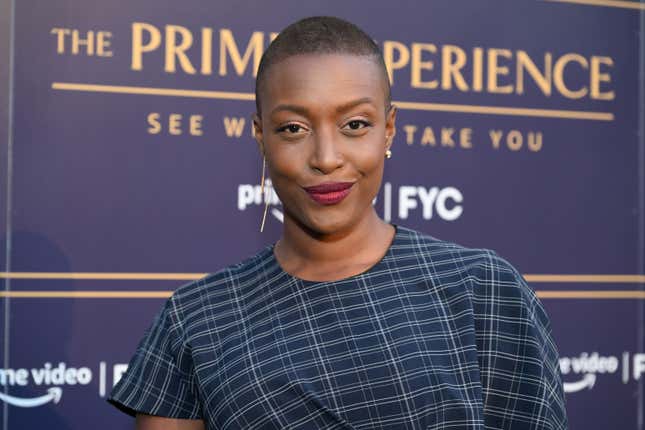 Thousands of WGA screenwriters are on strike throughout the country, demanding a better deal from studio executives, who they say have made billions on the backs of underpaid writers. However, the strike might be hard to follow if you're not in the television and film industry. Thankfully, Franchesca Ramsey, a Black writer, actor, and creator of MTV Decoded, is here to break it all down.
Trevor Noah, Women's NCAA, A Black Lady Sketch Show & More On TV
"The most important thing for people to understand is that the corporations that are putting out these television shows that you love and enjoy... are making billions," says Ramsey, "while the writers who build these worlds, create these characters, tell these stories, that touch you and inspire you and make you think and make you cry, are unable to make a stable living."
Why The Strike Matters To Black Writers
The unions' demands are relatively straightforward. (You can check out the complete list here.) But some of the highlights are; increasing minimum compensation, creating limits on so-called "mini-rooms," standardizing compensation and residuals across platforms, enacting policies to combat "discrimination and harassment to promote pay equity," and ensuring appropriate compensation throughout the entire pre-production, production, and post-production process.
While these demands mostly appear race-neutral, Ramsey says Black creators have a lot to gain if they're included in the next contract. "The people who do not have familial connections, the people who do not have wealth, the people who maybe don't have support systems in New York and LA," says Ramsey, "those are the people who we need to fight for, and more often than not, those people are coming from marginalized identities, including Black people."
After the death of George Floyd, film and television executives started green-lighting more projects featuring Black characters and other marginalized communities. But Ramsey says that didn't equate to paying these writers fairly.
"If you are hiring marginalized writers, Black writers, queer writers, but you're not giving them the financial support to keep a roof over their head," says Ramsey, "then it's meaningless to say we're supporting diverse stories."
It's clearly about money, not uplifting diverse voices, she says. "In reality, you want to profit off of diverse stories while not giving us a piece of the pie," she says, "and we're pouring ourselves into that and making these CEOs in Hollywood millionaires."
The Dreaded Hollywood "Mini-Rooms"
One aspect of the strike that might be hard to understand from the outside is the drama surrounding "mini-rooms." These are smaller versions of full-sized writers' rooms used before a show has been green-lit. And the union wants some serious limits placed on them.
"I had a mini room for a project at Comedy Central for 12 weeks," says Ramsey. "What essentially happens is you can work for 10, 12 weeks on a project at a lower rate. And then there's no guarantee that your show will even go to air."
Ramsey explains that unless your show gets picked up, you are more or less screwed. "If your show doesn't go to air, you are kind of stalled in your career," she says. "Oftentimes writers go up to a year between jobs. So you've now essentially put time into a project, but no one's gonna see it; it is not on your resume and didn't pay you a lot of money."
What Do The Network Executives Have to Say?
The major networks, represented by the Alliance of Motion Picture and Television Producers (AMPTP), told The Root that they're happy to offer a more favorable deal once the WGA backs off of some of their "sticking points."
"The AMPTP member companies remain united in their desire to reach a deal that is mutually beneficial to writers and the health and longevity of the industry, and to avoid hardship to the thousands of employees who depend upon the industry for their livelihoods," wrote the AMPTP, in a statement.
Ramsey doesn't buy it. "The whole purpose of negotiation is that two parties come to the table with a number of options, and there's always going to be some level of give and take," she says. "But the AMPTP did not do that on a number of our requests. They refused to even engage; they rejected certain proposals outright, and they didn't even counter. And that is the opposite of what a negotiation is."
Part of the frustration for Ramsey is that the networks are the ones who made the decision to pivot to streaming, and now they're falling back on it as the reason they can't pay workers a fair wage.
"The industry has changed, but it's changed because they decided that it was going to change, says Ramsey. "We are not to be blamed for that, and we should not be punished for that while the CEOs are rewarded for our work."