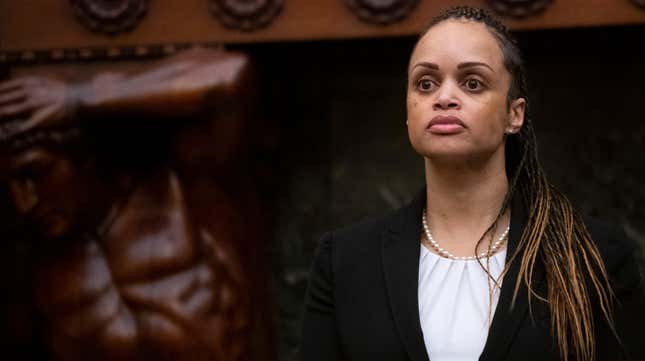 On Tuesday, it was announced that Philadelphia Police Commissioner Danielle Outlaw will resign from her position later this month. Outlaw, who became the first Black woman to helm the department, held the position for three years. Her tenure started just before the pandemic which was followed by the Black Lives Matter protests.
Fighting "Lie-abetes": How To Spot And Combat Disinformation and Conspiracies In Politics | The 411: Part 2
During the 2020 protests, the Philadelphia city council issued a statement saying that the police response to protestors with rubber bullets and tear gas were "brutal" and "unacceptable." The city issued a $9.25 million settlement to hundreds of participants stemming from police conduct, though at first Outlaw defended the actions of authorities.
There has also been various allegations of police brutality against the department. Just last month, Outlaw suspended and fired an officer for insubordination and other alleged policy violations relating to the Aug. 14 death of Eddie Irizarry. Irizarry was shot to death for just sitting in his car, though police initially claimed he lunged at officers with a knife.
Outlaw's resignation comes a few months before Mayor Jim Kenney is scheduled to leave office.

"Commissioner Outlaw has worked relentlessly for three and a half years during an unprecedented era in our city and a number of crisis situations," Kenney said in a statement, "and she deserves praise for her commitment to bring long-overdue reform to the Department after years of racism and gender discrimination prior to her appointment."
Last year, two female former officers who filed a gender discrimination and sexual harassment lawsuit against Outlaw and the city won a $1 million verdict. The women claimed that they suffered a hostile work environment that included being placed in certain jobs as retaliation after they made complaints sexual harassment complaints.
Kenney has confirmed that First Deputy John M. Stanford Jr. as interim police commissioner.