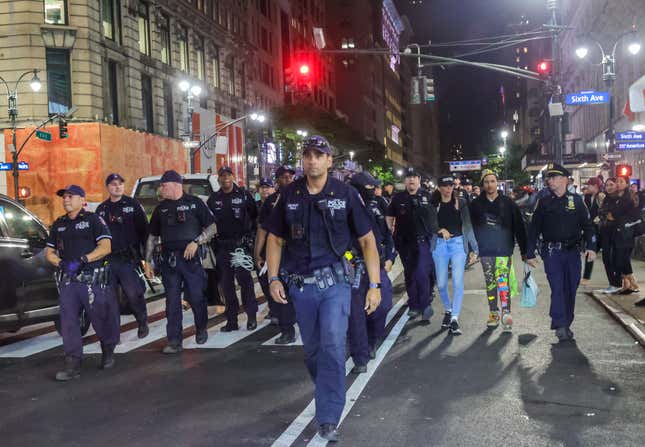 Protesters fighting against police violence were awarded a historic victory this week. On Thursday, the City of New York agreed to pay over $13 million in a class action lawsuit brought on behalf of roughly 1,300 protesters arrested and beaten by police during protests held in the Summer of 2020.
Tackling A Black Maternal Health Crisis & Embracing Reproductive Justice | The Root Institute
The settlement still has to be approved by a judge, but if it goes through, it would mark a massive triumph for the right to protest. According to the Associated Press, this is the largest payout ever awarded over mass arrests. Individual protesters will each be eligible to receive $9,950 (with some small exceptions).
Protesters demanding justice for George Floyd, Breonna Taylor, and other victims of police brutality were met with brutal police tactics. At points, officers deployed a "crowd control tactic" known as kettling, where officers corral protesters into tight spaces only to attack them with batons and pepper spray.
New York City isn't the only place where police deployed violent measures to quash protests of their tactics. In March, Philadelphia protesters won a $9.25 million settlement over police misconduct in the 2020 protests.
And even in places where the city hasn't agreed to a payout, police violence was rampant throughout the Summer. The New York Times tracked 100 cities where police deployed tear-gas, a chemical weapon that is banned in warfare but somehow legal when deployed by law enforcement in the United States. Tear gas can cause serious long-term injuries such as permanent vision damage, asthma, and chronic pulmonary disease. There are also open questions about the reproductive health impacts of tear gas after a study found that hundreds of people exposed to tear gas had abnormal menstrual cycles.
It'll be worth watching if large payouts like these have any impact on the city's willingness to hold police accountable and whether we see large settlements like this one moving forward.