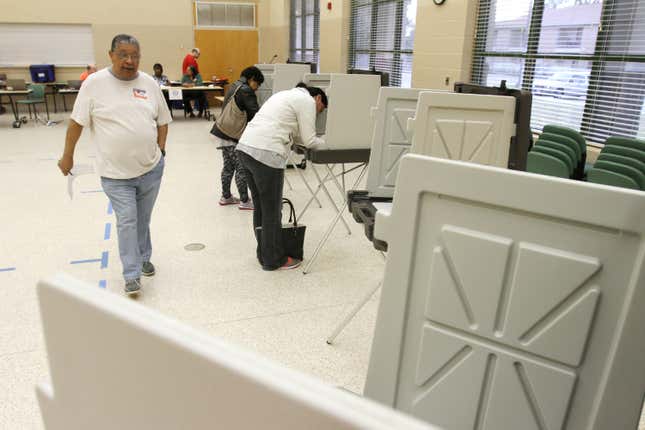 A controversial Jim Crow-era voting provision in Mississippi has made its way back into the news cycle. On Friday, a federal appeals court ruled that Mississippi's lifetime ban on people with certain felonies voting is unconstitutional. The decision not only reverses a rule intentionally put in place to prevent Black Americans from voting, but it also opens the door for tens of thousands of Mississippians to regain the right to vote.
The 5th Circuit panel ruled 2-1 that the Mississippi constitution's voting ban constituted cruel and unusual punishment under the Eighth Amendment. "By severing former offenders from the body politic forever, Section 241 ensures that they will never be fully rehabilitated, continues to punish them beyond the term their culpability requires, and serves no protective function to society," wrote the judges. "It is thus a cruel and unusual punishment."
In their decision, James L. Dennis, joined by Judge Carolyn Dineen King, also pointed to the racial underpinnings of the voting ban. For a little bit of background, in the 1890s, Mississippi adopted a constitutional provision barring people convicted of certain felonies from voting. The felonies were chosen specifically to prevent Black Mississippians from voting.
They weren't subtle about it, either. The President of the Mississippi Constitutional Convention said, "We came here to exclude the negro. Nothing short of this will answer."
As the 5th Circuit ruling points out, "although the delegates were explicit about their goal of white political control, they were careful to avoid provisions overtly violating the Fifteenth Amendment ban on restricting voting based on race." Instead, they tried to pick laws that they believed Black Americans would be more likely to be convicted of in Mississippi.
Since the section's adoption, Mississippi has updated the list to include crimes such as perjury, murder, rape, bribery, theft, arson, obtaining money or goods under false pretense, embezzlement, bigamy, and forgery. The state has argued that the racial bias inherent in the ban was remedied thanks to these changes.
The argument wasn't persuasive to Justice Ketanji Brown Jackson, who dissented from the Supreme Court's decision not to hear the case challenging the provision earlier this Summer. "Constitutional wrongs do not right themselves. With its failure to take action, the court has missed yet another opportunity to learn from its mistakes," wrote Jackson.
If the 5th Circuit's ruling isn't overturned, roughly 30,000 disenfranchised Mississippians could have their voting rights restored.