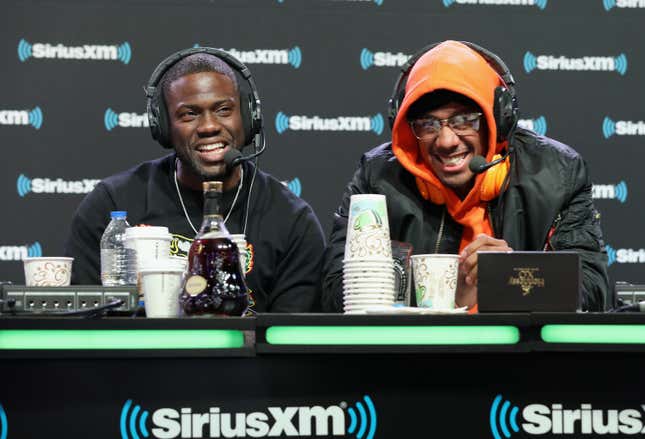 Updated 3/8/23 at 2:30 p.m. ET:

After an onslaught of internet backlash about their inappropriate game show, Who's Having My Baby?, it turns out the project was just a giant prank. Nick Cannon and Kevin Hart tricked us as part of the promotion for their actual series, Celebrity Prank Wars. The close friends have had a long-running, well-known prank war for years, so I guess they decided to just make a show out of it.
Wanda Sykes' New Stand-Up & Beat Shazam Without Jaime Foxx– Our TV Picks This Week
Cannon and Hart will host—and pick the winner—as celebrity friends pull crazy, wild pranks on one another. Per a press release, celebrities include Anthony Anderson; Lil Duval; Fantasia; Tiffany Haddish; Taraji P. Henson; Lil Jon; Ludacris; Chance The Rapper; T-Pain; and WWE's The New Day, Big E, Kofi Kingston and Xavier Woods.
Celebrity Prank Wars premieres Thursday, April 6 at 10 p.m. on E!
See original story below:
Well, they got us.
On Tuesday, Nick Cannon and Kevin Hart posted the teaser for their new game show on social media. Who's Having My Baby? features Cannon in a Dating Game-style format where he chooses the woman who he will have his next baby with. Simply put, it was terrible. The internet went to town on the show, calling The Masked Singer host a "disgrace" and a "clown." Other users questioned why they would treat women with such disrespect, with one tweeting, "Making children w/ multiple women is a gameshow now? This is a mockery of women and children. This man doesn't have a magical penis! Ask all of his kids if they think this is funny! His money is not a substitute for parenting."
Turns out we were all upset and disgusted for nothing, as this was just one big comedy sketch. Variety is reporting that Who's Having My Baby? is just part of "an upcoming, not-yet-announced project" from Hart. If the idea is to get people talking about your show before it's officially announced, then good job, I guess. However, viewers aren't stupid, so insulting their intelligence like this doesn't curry favor with them. It actually does the opposite.
When you use these kinds of offensive tactics just for publicity purposes, it makes the audience less interested in your project. Plus, we haven't even gotten into how Nick Cannon using his serial paternity to sell a comedy show is gross and deeply uncomfortable. Also, both these men should be concerned about their reputations, because we all completely believed a show this asinine was real. We totally thought Who's Having My Baby? is something they would make. That's a clear sign that the audience has a low opinion of what kind of entertainment they would participate in.
And perhaps the most egregious part of this whole situation is that the sketch is not even funny. Once you get past the ridiculous way they presented this, and deal with the idea that this is a comedy sketch, there's no humor to be found here. If this is supposed to give me an idea of what to expect from your sketch comedy show, then it's told me exactly how to feel–and that feeling is that I need to change the channel.