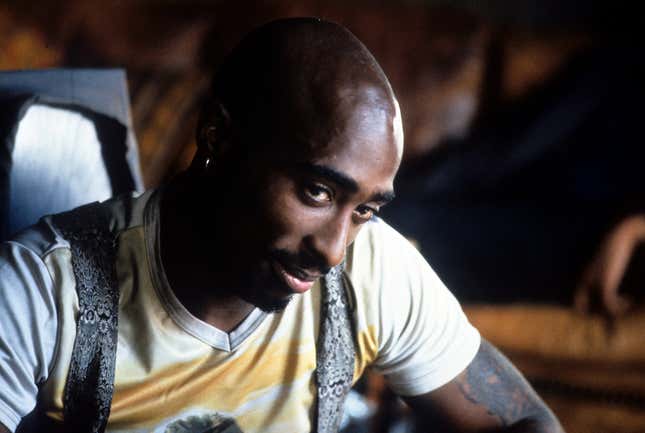 It's been almost 27 years since Tupac Shakur was murdered in a drive-by shooting in Las Vegas on September 7, 1996, but the mystery surrounding his death has remained a hot topic among his fans. There's finally been some movement in the case as Las Vegas Police recently served a search warrant "looking for laptops and other electronic devices at the home of" Duane Keith Davis, a.k.a. "Keefe D." Davis was allegedly in the car that perpetrated the drive-by. During the initial investigation by Las Vegas and Los Angeles Police, he claimed he was involved in the shooting, "but later gave police details about the case under a limited non-prosecution agreement." His nephew Orlando Anderson, who is suspected of pulling the trigger, was killed in 1998.
UR FAV TRAK: Tupac Shakur's "Keep Ya Head Up" On It's 30th Anniversary
There are a lot of questions about why the case has suddenly hit headlines again, but one close friend of Tupac's thinks it's not necessarily about finding the answers. Allen Hughes, who directed FX's Emmy nominated docuseries Dear Mama, told ABC News, "In the community, as we know, and in the streets, there was never a mystery to who killed Tupac. It was always about Las Vegas law enforcement closing the case on this. What happened that night at the MGM Grand Casino and that violent incident that Tupac and gang had with that individual—again, that guy, everyone knows, came back and shot Tupac." The investigation also revealed footage of the Poetic Justice actor just before he was shot. In what could be his last public moments, Pac is seen talking with friends.
After attending a Mike Tyson fight, the legendary rapper, Suge Knight and other members of their entourage were seen on camera assaulting a rival in the lobby of the MGM Grand. Later that evening, at 11:15 p.m. PT, while waiting at a stoplight, Tupac was hit four times by gunshots from a white Cadillac. His death sent shockwaves through the music world and the Black community. Widely considered the voice of a generation, his loss is still deeply felt by fans and fellow artists.
For proof of how strong Tupac's legacy still is, look no further than a recent auction at Sotheby's. Per Artnet News, a diamond and ruby ring that was designed by the "California Love" artist sold for more than $1 million, surpassing its $300,000 estimate. The stunning piece is a crown with the inscription "Pac & Dada 1996" to celebrate the star's engagement to Kidada Jones, daughter of Quincy Jones and sister of Rashida Jones. Pac wore the ring days before his death at the 1996 MTV Video Music Awards.
I know we've spent the year celebrating 50 years of hip-hop, but compared to the other artifacts that Sotheby's sells, this is a very new piece. This is why its high price is so surprising to the art world. It speaks to not only Tupac's continued influence on culture, but also hip-hop's importance.