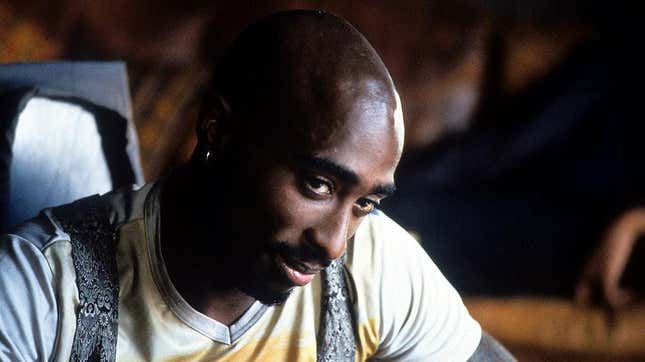 Updated 07/19/2023 at 11:05 a.m. ET:

Nearly 27 years after Tupac Shakur was shot and killed off the Las Vegas strip in September 1996 at the young age of 25, local police are still investigating his death.
FX on Hulu's Tupac Docuseries, Dear Mama, Is Our TV Pick This Week
On Monday evening, Las Vegas Metro police searched a local home in the area as a part of its investigation into the death of the "Keep Ya Head Up" rapper, according to KLAS-TV.
The home reportedly belonged to Paula Collins, who is married to 60-year-old Duane Davis, who is better known as "Keefe D."
In past interviews, Keefe has claimed to be a former crip and the uncle of Orlando Anderson, who is rumored to be the man who fatally shot Tupac in 1996.
Police searched Keefe's home for anything relating to the death of the "Dear Mama" rapper, including photos, personal notes, and documents, according to KLAS-TV.
In a statement, the Las Vegas Metropolitan Police Department said, "LVMPD can confirm a search warrant was served in Henderson, Nevada on July 17, 2023, as part of the ongoing Tupac Shakur homicide investigation. We will have no further comment at this time."
No arrests have been made.
While the murder of the hip-hop legend has been unsolved for decades, I wonder what developments caused local police to investigate a mystery home in the Las Vegas area.
Hopefully, it results in significant discoveries which will lead authorities to the people responsible for his death. If that happens, the hip-hop community can let go of their insane conspiracy theories about the beloved MC.
Despite being dead for nearly 30 years, his legacy and memory have not been forgotten.
This year alone, he posthumously received a star on the Hollywood Walk of Fame and had an Oakland street named after him.
Also this year, FX on Hulu released a docuseries titled, Dear Mama, a five-part series that told the incredible story of the relationship between Tupac Shakur and his mother, Afeni Shakur.
While the series was well-received by many, Pac's biological father, William "Billy" Garland was not fond of it.
In an interview released on YouTube in June, he explained, that he was disappointed with how things turned out in his interview with the series' director, Allen Hughes
He said, "I thought it was more about something else, than about Tupac, if you know what I'm saying. If I knew it was about Dear Mama, I might've still did it, but I probably wouldn't have. Not for nothing."
Last week, Pac's stepfather and renowned activist Mutulu Shakur died of cancer just six months after he was freed from prison.