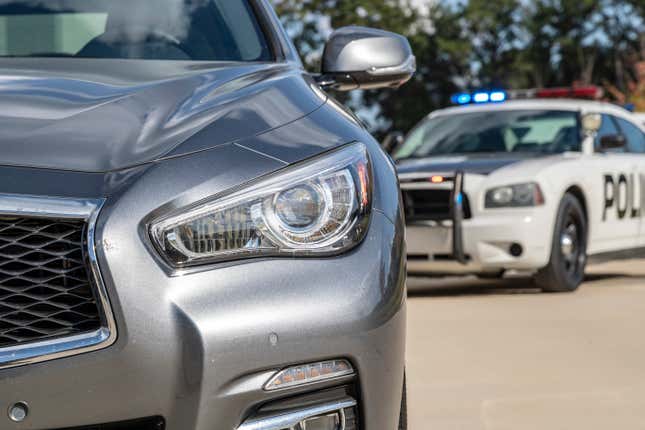 Body camera footage of a Minneapolis Park Police officer pointing a gun at a woman during a traffic stop has been released, reported ABC 5 Investigates via KSTP. The Minneapolis Park and Recreation Board has not responded yet to the incident or settlement following the incident.
"Too Black" or "Not Black Enough": W. Kamau Bell on the Politics of Black Identity
In July of 2019, Jenice Hodge was pulled over for not wearing her seatbelt and holding her phone in hand. Per the body camera footage, Officer Calvin Pham escalated the situation within one minute, per KSTP.
From KSTP:
But sixty seconds after approaching Hodge's car, Officer Pham suddenly pulled his gun out of his holster and ordered the 42-year-old woman out of the car.

"I didn't even have my driver's license out of the sleeve and I had a gun pointed at my head," she said.

Hodge, who is Black, said she was scared and confused.

"Phone in one hand, wallet in the other," Hodge pointed out, as she watched the video back in January. "Where's the threat to pull your firearm out?"

With her hands through the sunroof, the video shows Hodge telling the officer repeatedly to "calm down," as he ordered her out of the car.
After Hodge stepped out of her car, Pham grabbed her and shoved her into the ground with his bodyweight, per KSTP. Hodge was charged with obstruction and marijuana possession but after pleading guilty to driving with a suspended license, her charges were dropped.
The officer reportedly wrote in his incident report that he believed Hodge may have had a gun because he noticed a gun permit in her wallet, reported KSTP. However, he never noted if he saw a firearm.
Hodge filed a civil rights suit following the incident. The Parks Board approved a $100,000 settlement with Hodge in 2021 and Pham resigned from the department a month later, reported KSTP. The board has not responded to KSTP's request for comment on the release of the body camera footage or the settlement.
From KSTP:
Pham's personnel file makes no mention of the traffic stop or any discipline related to the July 2019 incident. Neither the Park Police chief nor the Park Board superintendent would answer questions about the traffic stop and what happened in the aftermath, and said simply in a statement "the settlement speaks for itself."
Presently, Hodge is still suffering from the trauma of the experience, hesitant to get behind the wheel again. She spoke to KSTP about how she remembered Philando Castile in the moment. "That was the first thing that ran through my mind. I'm going to die the same way that this young man died," said Hodge via KSTP.