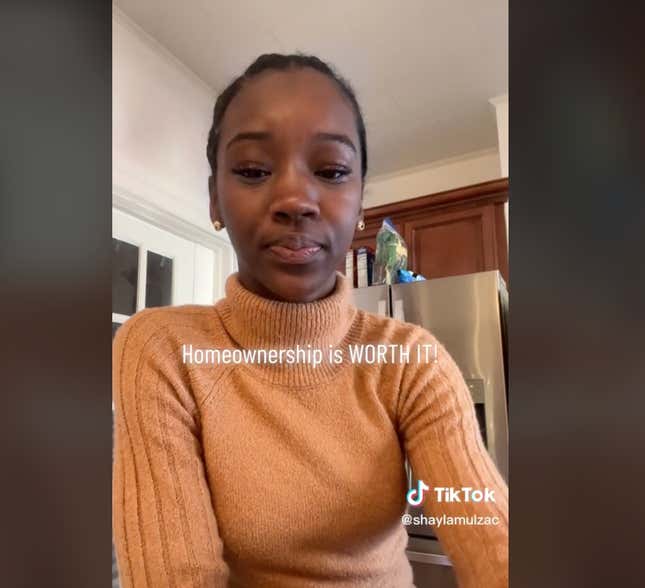 A couple of weeks ago, we told you about Shayla Mulzac, a 30-year-old Brooklyn native who took to TikTok to share how she pays zero mortgage on her million-dollar home. And we got lots of feedback – from some who were impressed and others who were suspicious.

Small Town Horror: The Story of a Plantation Cottage AirbnB
So we caught up with Shayla to learn more about her journey to homeownership and get her advice for others who may think it's a long shot.
For Mulzac, homeownership is a family affair. Her grandfather began purchasing properties around New York City in the 1940s and 50s, at one point owning up to 20. "Some of them were vacant lots, a few were apartment buildings he purchased at an auction where the property was dirt cheap," she said. Mulzac says some of the properties were passed down to her father, which allowed her to get a closer look at what being a homeowner is all about. She grew up helping her father manage and maintain the properties he inherited, which left her wanting to become a homeowner.
These are her five tips for successful homeownership:
Get With The Program
Mulzac says potential homeowners should not be intimidated by massive down payments and colossal closing costs. Instead, she suggests looking into first-time homeowner programs from organizations like the Neighborhood Assistance Corporation of America (NACA) – which she used to purchase her first home with no down payment or closing costs.
"Once I got a letter showing how much I would qualify for, I hit the pavement looking for homes in May 2021," she said. "I knew I had a long journey ahead of me. But by November 2021, I found the home I'm in now and ended up closing on it."
Pinch Your Pennies
Mulzac says even if you don't need a ton of cash to get into your home, other expenses are inevitable along the way. She encourages potential homeowners to buckle down and save as much as possible. She adds that she made lots of sacrifices like moving in with her parents, cutting off all subscriptions and even skipping trips to the hair salon to save as much as possible. "I was crazy about saving, so I could have money saved to buy furniture and do renovations," she said.
She adds that while it may be tough to say no to manicures and nights out with friends, a little discipline can go a long way in helping make your homeownership dreams a reality. "People want things easy, but you have to really work for it. Once you achieve your goal, you can go out to celebrate."
Build Your Team
One of the keys to Mulzac's success in New York's often cutthroat real estate game has been surrounding herself with people who know the industry and want to see her win. She tells others to seek advice and assistance from experienced family and close friends they can trust. "My dad is good with electrical and plumbing. So I'm blessed to have him be part of my circle," she said. "Without him, I could have been taken advantage of."
Take in a Tenant
If you're looking to lower your mortgage payments, Mulzac says tenants and/or roommates can help you cut your costs – she has both. "If I had to pay the mortgage by myself, I would look at homeownership a little differently," she says. "[My tenant] covers a little more than half of my mortgage. My roommate helps cover the rest, which is very helpful."
And while Mulzac knows that option doesn't work for everyone, it has been great for her. "I haven't had any complaints. Rent is paid on time, so it's just been a blessing so far."
She says you can also consider Airbnb or other short-term rental options to help you generate extra income.
Be True to Yourself
Owning a home is a tremendous accomplishment, but it does take some work. So before committing to purchasing your first home, Mulzac says you should be honest about what you are (and aren't) willing to do. According to Mulzac, anyone can be a homeowner, but not everyone is cut out for homeownership. "If you don't want to do anything (change a lightbulb, shovel snow), honestly, sis you wouldn't be able to be a homeowner," she laughs. "Some are better off renting and not having to worry about things like plumbing or electrical issues."