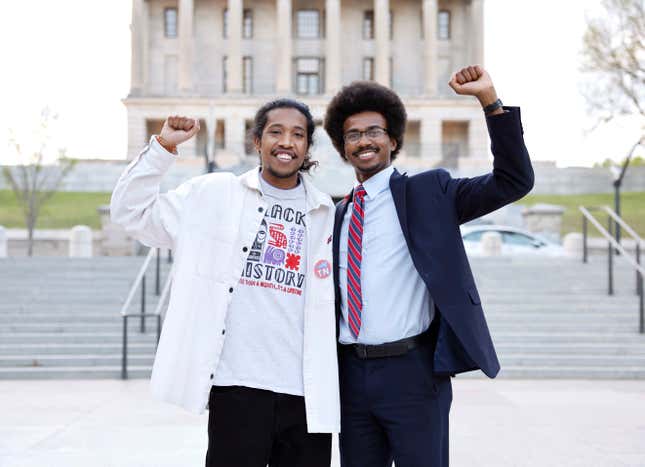 Though Reps. Justin Pearson and Justin Jones may have been wrongly expelled from their legislative seats, the two members of the "Tennessee Three" plan on regaining them on Thursday by winning a special election. The Democratic lawmakers were reinstated, but that was on a temporary basis.
Republican-Led Political Expulsions Like In Tennessee Will Be The New Norm
Both Pearson and Jones won their primary election that took place in June but now they must win a general election for Democrat-leaning districts. Jones resides lives in Nashville and his opponent is Republican candidate Laura Nelson.
Pearson hails from Memphis and will go head-to-head with independent candidate Jeff Johnston. Both men were elected to the Statehouse last year, even though it is saturated with conservatives. After a mass shooting in Nashville, Pearson and Jones participated in a pro-gun control protest on the House floor alongside Democrat Rep. Gloria Johnson.
Pearson and Jones were expelled immediately, but Johnson was not. Republican lawmakers quickly decided that their behavior House rules, yet Johnson escaped punishment from the mostly white GOP caucus. However, the caucus insisted the expulsions were not racially motivated. The expelled duo raised more than $2 million together through tens of thousands of campaign donations from all over the country.
Now, more than a dozen Republican lawmakers have financially supported the campaign of Jones' Republican rival, Laura Nelson (she has raised more than $30k for the race). Both Pearson and Jones use their platform to discuss the disproportionate environmental damage on poor communities, gun control, advocating for health care and calling for actual livable wages.
Recently, Pearson underscored quality of life issues like neighborhood trash and better social environments for the elderly. Many view Pearson and Jones as ushering in a new era in politics, as the young men have been bold and unapologetic when it comes to standing up for their communities.