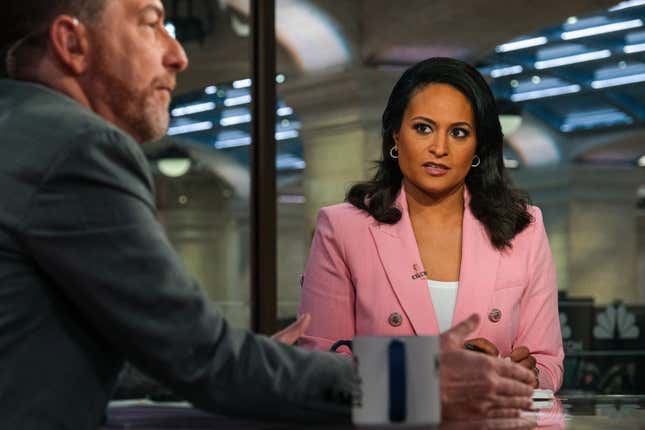 One of the most iconic news shows in the country is getting a makeover! NBC Reporter Kristen Welker is taking over from Chuck Todd as the new host of Meet The Press. Welker will be the first Black person to ever host the show full-time, marking a watershed moment for the hard-hitting political news program.
Here's The Moment 20/20 Co-Anchor Deborah Roberts Felt Like She Made It | Securing the Bag: Part 5
Welker is hardly a new face to people who watch the network. The 46-year-old is currently NBC's Chief White House correspondent. Folks will probably also remember her from the 2020 Presidential debates. Welker received a ton of praise for moderating the debate between then-President Donald Trump and President Joe Biden. Trump may have disagreed with that assessment, but let's be real; when was the last time Trump had nice things to say about the person tasked with reigning him in and making him answer honest questions?
Welker also isn't a new face to Meet The Press' audience. She regularly hosted the program in Todd's absence and also hosted the show's online version, Meet The Press Now.
Welker will be taking over the program in September. She'll not only be the first Black person to host the show but also the second woman to ever host Meet The Press as the permanent host. This is that much a bigger deal when you realize that the show has been running since the 1940s. Welker will join the prestigious group of Meet The Press hosts, including David Gregory, Tim Russert, Garrick Utley, Lawrence Spivak, and Martha Rountree.
It's sure to be a different show with Welker at the helm, and we'll obviously be tuning in on Sunday mornings.