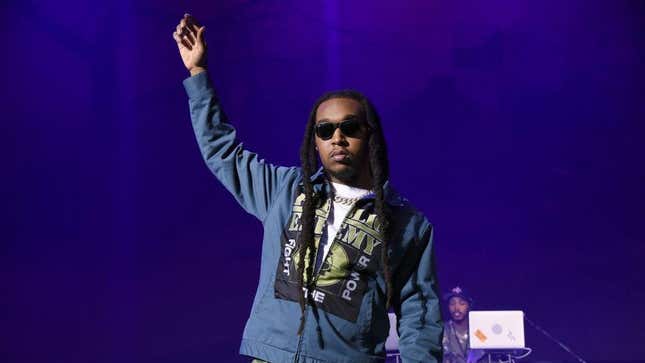 The man accused of murdering Takeoff will be spending time outside of prison as he prepares for his trial. Patrick Clark, 33, who was arrested and charged with murder in December, has been released from jail after he posted a $1 million bond on Wednesday, according to KHOU 11.
Previously, Clark's attorneys argued to have his bond reduced to $300,000, saying that he could not make up the cash to get out. But a Houston judge denied that request and kept it at $1 million saying there would be bail bond companies that are willing to pay the amount. Originally, when Clark was first arrested, his bond was set at $2 million, but his attorneys were able to convince the judge to cut it in half.
According to KHOU 11, Clark is not allowed to leave his parent's house and cannot have any contact with anyone related to Takeoff while he is out on bond awaiting his trial date. Nearly a month ago, it was revealed by Clark's attorney that he would be claiming self-defense during the trial.
During a court hearing last month, it was also stated by the prosecution that Clark attempted to avoid arrest after Takeoff's murder by trying to flee the country, and per the Associated Press, he not only sought information about using fake plane tickets to get an expedited passport but also searched online to see if he was a suspect in the case before his arrest.
Born Kirsnick Khari Ball, Takeoff was fatally shot outside 810 Bowling Alley in Houston on Nov. 1. He was only 28. Houston Police discovered that the Atlanta rapper was with his uncle and fellow Migos member, Quavo, for a private party and that the shooting happened around 2:30 a.m. after a dice game in which both the Migos members were playing.

Houston police suspect Clark was the man who fatally shot Takeoff based on cell phone and surveillance footage. Clark and another man, Cameron Joshua, 22, were both arrested on Dec. 1. Joshua was charged with felony possession of a weapon.
In the time since his death, Offset and Quavo have been open about how much they miss their fellow Migos member and family member.
On Wednesday, Quavo released "Without You" along with a video that reflects on the death of his nephew. Throughout the song, Quavo sings, "Out in the galaxy, up in the stars/Over the universe, it's bigger than Mars/See you in heaven, see you heaven/When I see you in heaven, I'ma be with my dog."