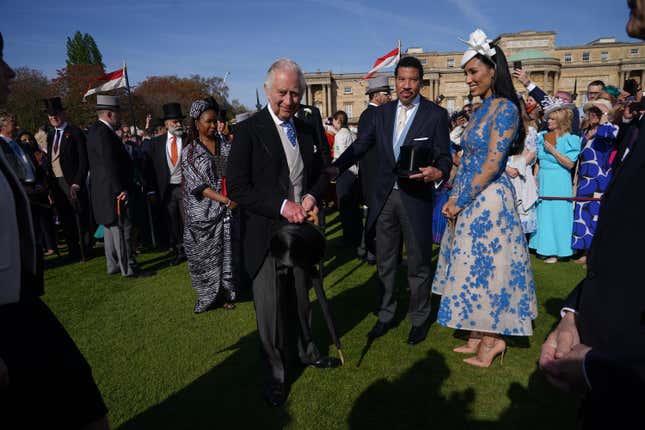 We may not be super excited about the coronation of King Charles III, but at least one Black American is. Grammy-winning superstar Lionel Richie is slated to perform on May 7, at the Coronation concert and he couldn't be more excited to be a part of the history-making concert. The "Hello" singer has been friends with the new monarch for some time, having worked with Charles' The Prince's Trust charity.

Grammys 2022: 10 Black Artists Who've Won Album of the Year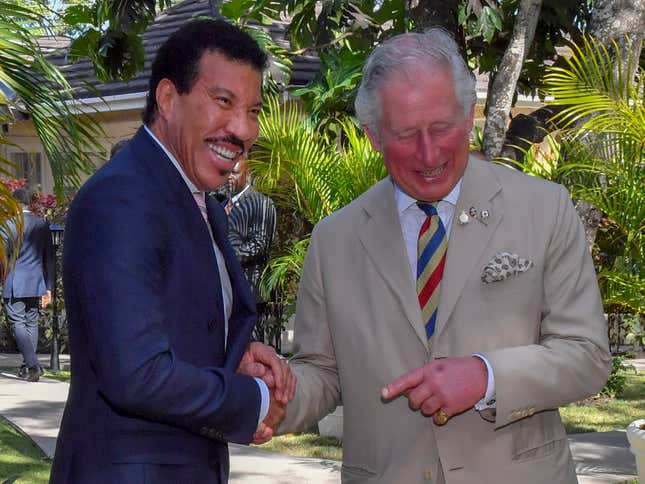 "I've known His Majesty now for a couple of years. And so, to celebrate this with him and the Queen is just going to be so much fun," Richie told Sky News during a garden party at Buckingham Palace on Wednesday.
Charles' official coronation is England's first since his mother, Queen Elizabeth II, was crowned in 1953. She passed away in September 2022. It's a long-running joke that Lionel Richie knows everyone in show business, but who knew the King of England was on that list?
"Does this ever happen? No," he said. "This is a once-in-a-lifetime opportunity, so, you know, to be a part of it is everything."
This feels like the kind of unlikely friendship you see in sitcoms from the '70s and '80s. What do they do when they hang out? Has Lionel secretly tried on the crown? Does Charles have a "drunk white guy at karaoke" version of "Brick House?" Now if that happens at the coronation, I may wake up early and watch. The singer/songwriter isn't revealing what he'll perform at the concert, but I'm guessing we'll hear all the hits, including "Dancing on the Ceiling," "Easy" and "All Night Long."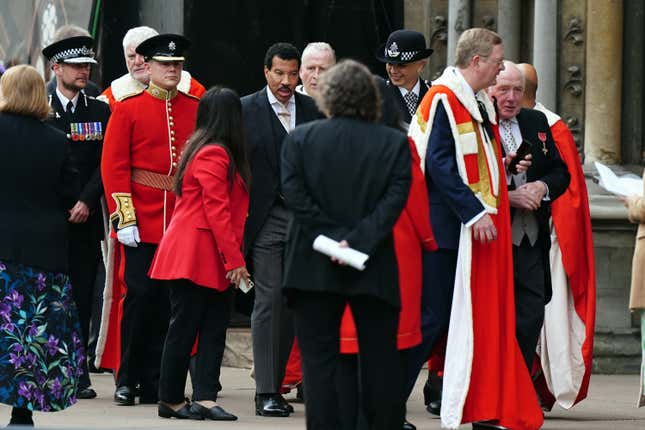 "I want to see the pomp and circumstance because I don't care what you thought Michael Jackson did. I don't care what you thought Prince did. I don't care what you thought Madonna did. Nothing's going to be like this," he said. "This is the grandiose of grandiose right here."
Richie will be joined at the coronation concert by his fellow American Idol judge Katy Perry; opera star Andrea Bocelli; and popular British group Take That. If that lineup feels a little old, it's because current artists like Adele, Ed Sheeran and Harry Styles all reportedly turned down invitations to perform. Apparently, even Elton John said no, and I can't remember the last time he declined a royal invitation.
If you're interested in what all that pomp and circumstance looks like, The Coronation of King Charles III airs on most major networks, including ABC, NBC, CBS and CNN on Saturday, May 6 at 6 a.m. ET/3 a.m. PT.