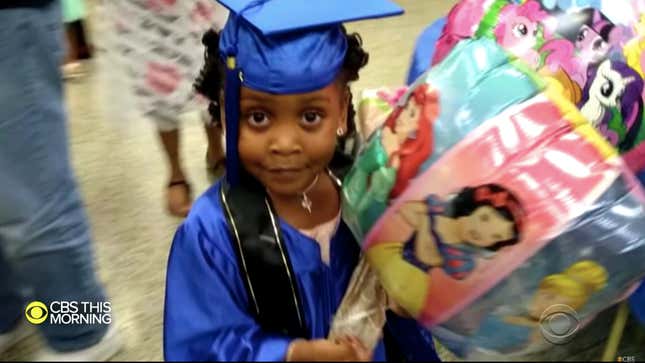 In 2019, Orlando police infuriated the nation after arresting 6-year-old Kaia Rolle for throwing a tantrum in the classroom. The concern of why a little girl was allowed to be handcuffed and taken to juvenile jail is what Rolle's family aims to address in their latest lawsuit.

My Hip-Hop Story: Cedric The Entertainer On Jay-Z and His Indisputable Role In Shaping The Genre's Culture
Body camera footage showed the now-10-year-old being handcuffed with zipties after throwing a fit in class, as any 6-year-old would. The suit says Rolle's grandmother told the Lucisous & Emma Nixon Academy Charter School administrators that Rolle struggled with sleep apnea, which causes a temper and heightened irritability due to a lack of sleep. However, even upon the administrators willingness to accommodate her condition, the teacher responded to Rolle's tantrum by taking her down to the main office, the suit says.
The School Resource Officer Dennis Turner responded to the scene and told Rolle if she didn't calm down, she would be sent home. "Being sent home" then escalated into threatening to take her down to jail which… is safe to assume wouldn't help calm a child.
At some point, after being notified of her condition, the officer said, "Well I have sleep apnea and I don't behave like that." Rolle was ziptied behind her back, thrown in the back of a police car and brought to booking at the Juvenile Assessment Center where she was forced to get fingerprinted and placed on a step stool for a mugshot.
Rolle was the youngest child ever arrested by Officer Turner. Now, her family wants to make sure no one at or near her age experiences the same thing.
Read more from ClickOrlando:
Turner was later fired for violating the department's policy which requires officers to get the approval of a watch commander before arresting anyone under 12 years old.

"There is no way a minimum age for an arrest at the age of 7 can be allowed to stand," said Kirkland.

Kaia's family and their attorneys are demanding the state of Florida raise the minimum arrest age. State legislators passed the Kaia Rolle Act back in 2021 banning the arrest of kids under 7. When asked what age he sees for the minimum arrest age of Florida, Kaia's family attorney Bobby DiCello said, "Not less than 14 here in the state of Florida."

Kaia's family also filed an amended lawsuit Monday claiming Kaia's rights were violated by excessive force, a false arrest and what they're calling malicious prosecution.