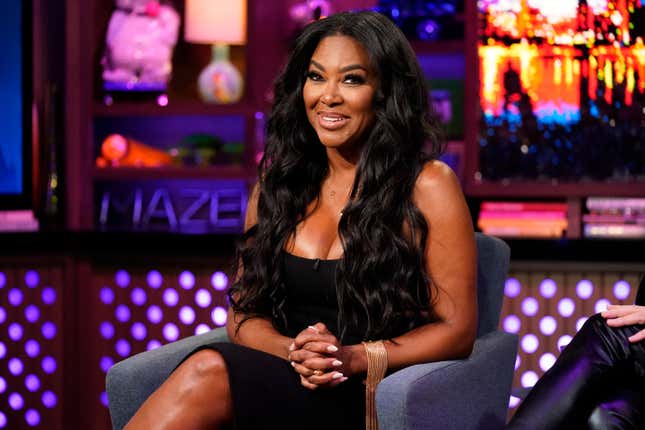 On January 4, 2022, FOX's Special Forces: World's Toughest Test, will premiere and although contestant Kenya Moore has already proven to be quite a fighter after being a contestant on Miss USA, Dancing with the Stars, Worst Cooks in America, and The Apprentice, fans and haters will both get to see her pushed to her limits on the new reality show. The former Miss USA and The Real Housewives of Atlanta star swung by The Root to talk about the most difficult 10 days of her life.

Kerry Washington Talks Shonda Rhimes, Scandal, & Motherhood | Securing the Bag: Part 2
Special Forces: World's Toughest Test is an all-new series starring 16 celebrities from various industries enduring 10 grueling days in the Jordanian desert, given physical and mental challenges by ex-special forces operatives. There are no prizes and no winners; the biggest accomplishment is to make it through the entire process, fighting through fears, pain, and constant strength testing.
If you've ever watched Kenya Moore on other competition shows or on reality TV, she's known to never back down from a fight. But how did she decide to participate in a show where the fight was against herself? The beauty queen responded, "I love a good challenge. And I just saw how interesting it was how it makes you like so mentally tough. And it made you face your fears. And I have this, well had, this huge fear of heights. And I said you know what, I'm going to do it because I want to show my daughter how tough I am too. So I said yes." Moore is the mother of an adorable daughter, four-year-old Brooklyn Daly.
The haircare founder gave some insight into how intense the living quarters were during the survival show—and it was far from the designer bags, sports cars, and luxury hotels she's so often seen using and experiencing. "There was no luxury at all," she said. "We didn't have a hotel, a manager, or an agent. We didn't have cell phones, no computers. We had barely running water. We had to share a makeshift hose for 16 people to take a shower behind like this little box they made. We did not have toilets. We had buckets. We were starved. So we had for breakfast, a hard-boiled egg, a piece of bread. And maybe if we were lucky one apple or one banana."
She wanted to reassure viewers that they were truly roughing it. When the cameras were off, the crew of reality stars, athletes, music artists, and actors weren't treated any differently, she says, "It was the hardest thing I've ever had to do, honestly, to God the hardest, physically and mentally. Ever."
Of course, we had to bring some Housewives questions into the interview, asking the "Gone With the Wind Fabulous" singer which one was more challenging: being a contestant on Special Forces or filming with the Housewives? She swiftly answered, "Mentally definitely the Housewives because it is so mentally draining. And those girls just like, get on my nerves. Most of them. Fights for no reason. People making up stuff, just disingenuous interactions and motives and all that. And they're always gunning for me." Seems like the Special Forces drill sergeants can't break her down as much as the women throwing things across dinner tables and making fun of each other's wigs.
If anybody is wondering which Housewives she would want to see endure the grisly conditions, here's a treat: "Well from Atlanta, I would say Kandi [Burruss]. I think she could kill it. Because she's very competitive like myself. From other franchises, I would just love to see Vicky Gunvalson. I would love to see Brandi [Glanville], a former Housewife. I would like to see how she would fare like Lisa Rinna from Beverly Hills. And I know Kyle [Richards] would say no so I'm not even gonna think about Kyle. And EJ, Erika Jayne. I think Erika would tap out. I would like to see how tough she really is. This show will definitely expose you."
To see how strong Kenya Moore really is, catch her on Special Forces: World's Toughest Test airing Wednesdays at 9/8c on FOX.