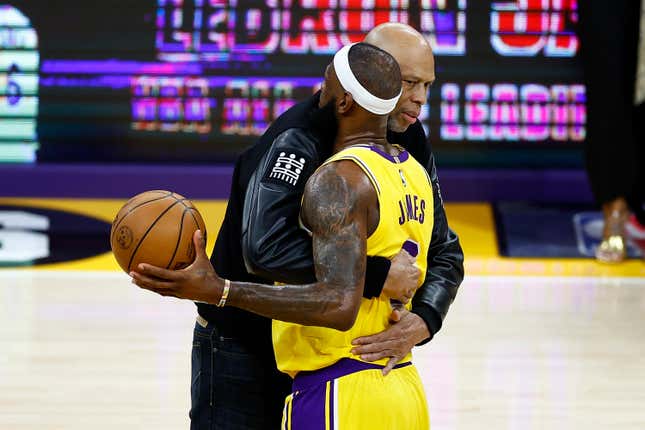 With the world still buzzing about LeBron James passing Kareem Abdul-Jabbar to become the NBA's all-time leading scorer, there's only one person whose opinion we really need on the moment, and that's Kareem. Thankfully, the Los Angeles Lakers legend has a fascinating and cool newsletter where he regularly gifts us with his thoughts on current events. On Wednesday, he released a column titled "What I Think About LeBron Breaking My NBA Scoring Record." He writes about the various talking points and opinions that have been offered on his behalf, graciously opening up about his actual thoughts on the entire process.

Elon Musk Has Opened the Floodgates For Racists On Twitter
"It takes unbelievable drive, dedication, and talent to survive in the NBA long enough to rack up that number of points when the average NBA career lasts only 4.5 years," Abdul-Jabbar writes. "It's not just about putting the ball through the hoop, it's about staying healthy and skilled enough to climb the steep mountain in ever-thinning oxygen over many years when most other players have tapped out."
After some wisdom on teamwork and strong words about how wrong his old friend Magic Johnson was to say that Kareem would be unhappy about the record being broken, the NBA great explained how sports unites people and shows them what's possible.
"Whenever a sports record is broken—including mine—it's a time for celebration," he writes. "It means someone has pushed the boundaries of what we thought was possible to a whole new level. And when one person climbs higher than the last person, we all feel like we are capable of being more."
"That is the magic of sports. To see something seemingly impossi­ble, reminding us that if one person can do it, then we all somehow share in that achievement," Kareem added. "It is what sends children onto playgrounds to duplicate a LeBron layup or a Steph Curry three-pointer. Or Mia Hamm inspiring a whole generation of girls to come off the bleachers and onto the field. Millions of children across the country pushing themselves toward excellence because they saw an athlete do something spectacular and they want to do it too. Or at least try. That same kind of drive is behind many of humankind's greatest achievements."
Even with President Biden giving his State of the Union address, LeBron dominated social media, receiving congratulations from teammates, opponents, legends and famous fans.
Bleacher Report tweeted a video featuring Rihanna; Kendrick Lamar; Shaquille O'Neal; Snoop Dogg; Anthony Davis; Kevin Durant; and others congratulating the king on breaking the record.
Lakers legend Magic Johnson praised LeBron for his charitable work off the court, writing, "LeBron is such an amazing man on and off the court. He's an incredible entrepreneur, does outstanding charitable work in Ohio and across the country, and he always lends his voice and platform to those who don't have a voice; especially the Black community."
One of the king's most notable rivals, Steph Curry, tweeted, "Congrats @KingJames…legendary stuff right there."
James' longtime friend, Phoenix Suns star, Chris Paul wrote, "38388 and counting… congratulations @KingJames!!"
Patrick Mahomes took time out from his Super Bowl LVII prep and offered his support, tweeting, "Congrats!!! @KingJames legendary stuff!!"
Award-winning singer John Legend noted LeBron's long-lasting career, writing, "Congratulations @KingJames!!!! This man has been in the spotlight and burdened with the highest expectations since he was a teenager. And he's done nothing but exceed those expectations and build a historic legacy. What an incredible accomplishment!"
Atlanta Hawks star Trae Young celebrated the road James has paved for others, writing, "Witnessed Greatness. The Blueprint is there.! Congrats @KingJames."
The Cleveland Cavaliers tweeted out a video from James' former teammate Kevin Love, where he salutes his friend for his longevity.
Up next, LeBron is set to once again captain a team at the NBA All-Star Game, which airs live on Sunday, Feb. 19 at 8 p.m. ET/5 p.m. PT on TNT and TBS. He and his fellow captain, Giannis Antetokounmpo, will draft their teams right before the game at 7:30 p.m. ET/4:30 p.m. PT.