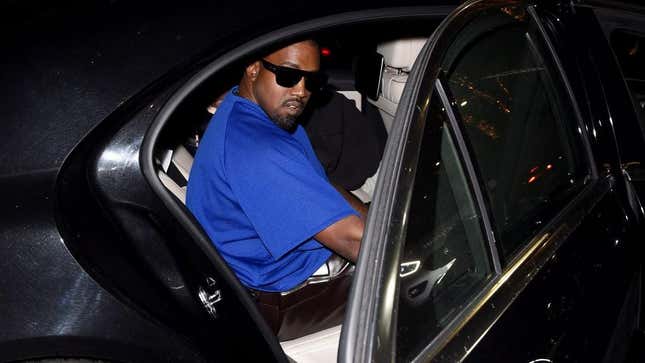 After weeks of going on a social media onslaught against Gap and Adidas, Kanye West formally let Gap know on Thursday that he is ending his partnership with the clothing retailer, according to the Wall Street Journal.
Grammys 2022: 10 Black Artists Who've Won Album of the Year
Earlier this week, the rapper teased a split with his corporate partners in an interview with Bloomberg saying, "It's time for me to go it alone. It's fine. I made the companies money. The companies made me money. We created ideas that will change apparel forever."
I thought he meant after his contract with Gap and Adidas is over. But damn, I didn't expect it to end this quickly.
Now in an interview with CNBC, the Donda artist explains why he decided to terminate his partnership with one of the biggest clothing retailers in the world.
"So we designed an entire collection, and actually I wasn't able to set the actual price that I wanted for this collection. And then they actually took one of the shirts and sold it for $19. So [they] didn't price my stuff — they took my stuff and sold it for like $200 and above their whole price point normally and did the exact shirt for $20," said Kanye.

He continued, "Also, they did pop-ups and I signed on with them because in the contract they said they were gonna do stores. And they just ignored us about building stores constantly. It was very frustrating. It was very disheartening."
It seems that Gap brass was not willing to listen to the ideas that Kanye wanted to be put into action. I know Kanye oftentimes expects to get what he wants, but if you're signed to a 10-year contract, you're expected to have some decision-making power in the brand and I guess he felt like he didn't, so he left.
More from the Wall Street Journal :

On Thursday, lawyers for Mr. West sent a letter to Gap notifying the company that his Yeezy LLC is terminating the arrangement. Gap breached the agreement by not releasing apparel and opening retail stores as planned, according to the letter, which was viewed by The Wall Street Journal…

Items won't disappear from stores. Gap will be able to sell existing Yeezy Gap products before ceasing to use the brand name, according to the letter. Mr. West's letter doesn't affect merchandise made in collaboration with fashion house Balenciaga that is also sold through Gap.
It seems Gap is also moving on from this relationship rather quickly as the brand has already removed electronic ads from their flagship store in Times Square showing clothing from Kanye's Yeezy Gap Balenciaga collection.
Last month, Kanye faced some backlash for selling clothing from his Yeezy Gap line out of trash bags. Yes, trash bags. He tried to defend that decision on Fox News, but criticism still came his way.
Later in August, Kanye voiced frustration with Gap for holding a meeting about his Yeezy Gap line with Balancegia without Ye himself. He said in an Instagram post, "Gap held a meeting about me without me?"
Next on the list is Adidas. His contract with the shoe brand is not set to end until 2030. Will he send the three stripes packing sooner than expected? Many of his frustrations with Gap are similar to the ones he has with Adidas.