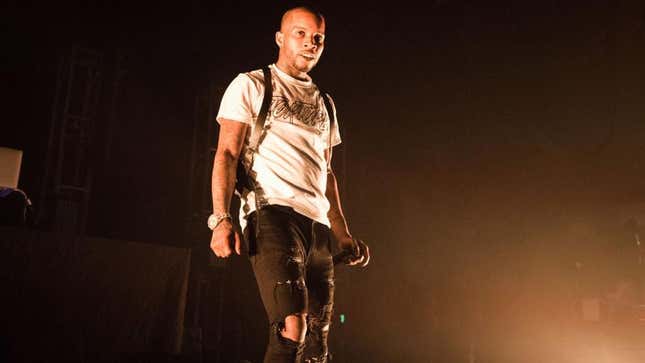 After weeks of gearing up for this moment, Tory Lanez and his legal team have filed a motion for a new trial in the Megan Thee Stallion shooting case nearly three months after the Canadian artist was found guilty on all charges.
Lanez's legal team officially filed the paperwork for a new motion on Wednesday, claiming that the judge in the shooting case "erroneously allowed" the jury to view a post from Lanez's Instagram account that claimed Megan's former best friend, Kelsey Harris, was not the shooter, according to Rolling Stone.
Lanez's social media manager, Joshua Farias, claims he was the one who replied, "that's not true," to a comment on the Shade Room's Instagram that read, "People saying Kelsey shot her."
His attorneys think they prove that the prosecution hid their knowledge of the IG post until the trial began. They argue that the judge should have banned the post from being used as evidence since Tory and his legal team did not have enough time to discover who replied to the comment on Instagram.
This one comment on IG is important because it seemingly confirmed from Lanez that Harris did not fire the gun. This went against his defense during the trial which he claimed that Harris fired the gunshots that were aimed at Megan's feet.
More from Rolling Stone:
The motion for a new trial also claims that prosecutors unfairly "painted defendant as a gun-wielding career criminal." It claims that during the December trial, prosecutors "revealed their true motive" for introducing a shirtless photo of Peterson when they asked a witness if he had seen "the big gun that Tory has tattooed at the center of his chest." Peterson's lawyers argue that trial references to his tattoo and music "deprived" him of the "due process safeguards" in a new California law that seeks to exclude "creative expression" evidence that might lead to racial bias. Peterson's legal team said the disputed evidence led to "improper consideration of criminal propensity based on his 'gangster' rapper persona."
They also claim that their client's right to testify was "chilled" when the judge allowed the prosecution to use his music videos and lyrics during cross-examination. They specifically showed the music video for "CAP," which shows Lanez cutting off a horse's leg with a bloody cleaver.

Although Lanez is filing this motion, it won't be met without resistance. Prosecuting attorneys are planning to reply to the motion before April 10, the date of the Canadian rapper's sentencing hearing. He's currently facing 22 years in prison.