Martin Luther King Jr. Day turned out to be quite eventful for Hollywood. Jada Pinkett Smith announced via video that she would be boycotting this year's Academy Awards because of the exclusion of black performances in the four major acting categories. This is the second year in a row that black actors have been shut out.
Spike Lee, who received an honorary Oscar at last year's Governors Awards, also announced on Facebook that he and his wife, Tonya Lewis Lee, would be skipping the festivities, too.
To me it seemed like an appropriate response to the general outrage about blacks being excluded—again—as documented in the #OscarsSoWhite hashtag that populated Twitter the day the nominees were announced.
By nightfall, actress Janet Hubert, best known for her role as the original Aunt Viv on the '90s sitcom The Fresh Prince of Bel-Air (and her public refusal to let go of her 20-plus-year grudge against Will Smith) had jumped into the fray. No, she wasn't boycotting the Oscars, too; she would have had to be invited for that to happen. She popped up from obscurity to blast the Smiths.
Hubert uploaded a grainy, four-minute video in which she addressed Pinkett Smith as "Miss Thing," then accused her of boycotting the Oscars because Pinkett Smith's superstar husband, Will Smith, wasn't nominated by the academy for his role in Concussion. It went downhill from there, with Hubert adding, more or less, that the Smiths' concern about the Oscars is frivolous in the face of greater injustices against Americans of African descent, and calling the Smiths "a part of the system that is unfair to other actors."
G/O Media may get a commission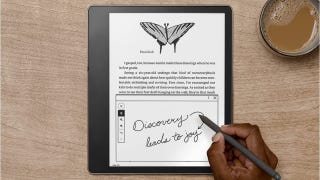 Releases November 30
Borrowing the display from the much-beloved Paperwhite, this screen provides a glare-free experience both indoors and outdoors so you can read by the pool or on the beach on a sunny day. New to this model is the inclusion of a pen. Take notes directly on the pages as you might in a traditional book, but the notes are automatically organized by title in a single place–letting you review and export them with ease.
Anticipating a negative response to her video, Hubert concluded her rant by addressing those who would dismiss her perspective as bitter with "Bitches, please."
Sigh. 
Surprisingly, the reaction to her (unnecessary) clap-back wasn't all negative. Hubert's video displayed mighty (and misguided) huevos. More than anything, people were wildly amused by just how messy Hubert could get, spilling (more) decades-old Hollywood tea and going all retro, calling Pinkett Smith "Miss Thing." And then there was just the abundant pettiness of it all. Lots of people are laughing, but it's not really with Hubert; it's at her.
In fairness, there are people who agree with her that an Oscar boycott is pointless or at least frivolous, compared to, say, the Flint, Mich., water crisis or Black Lives Matter. No one in his or her right mind would argue that awards outweigh contaminated water or dead black bodies. But caring about the Oscars doesn't mean that all other issues are off the table. It is possible to care about more than one issue at a time.
Hubert did made a valid point about Idris Elba being a great actor who deserved an Oscar nod for Beasts of No Nation (and while we're at it, so did Abraham Attah, who played Agu). And she was right about Smith's Nigerian accent in Concussion. I'm not Nigerian, and I know it's bad. Nigerians must be appalled. I do think Smith is a good actor, though.
But regarding everything else in Hubert's video? I guess I'm the "bitch" she's saying "please" to, because I found her video to be mostly a bitter, baseless rant.
It's not as if a plethora of black people got nominated and only Will Smith got snubbed. No black people, at all, in the major categories … for the second year in a row.
The call for a boycott isn't about an individual being snubbed. It's much bigger than Smith. It's about another example of institutional racism. It points to the lack of opportunity for roles that Viola Davis spoke of at the Emmys last year. It's an overall lack of acknowledgment of and respect for black actors.
And yes, actually, black actors matter. Because actors tell stories. And stories become the image and legacy of a culture. And black stories matter just as much as everyone else's. Perhaps the Oscars do not matter to Hubert, a working actress, because she does TV, not film, and her roles in the two decades since Fresh Prince have not been substantive enough for her to earn nominations of any kind. (No shade.)
It's not as if Pinkett Smith is the only one who finds the Oscars' lack of black problematic. The hashtag #OscarsSoWhite wasn't used for Will Smith. Spike and Tonya Lee are also sitting this one out. Are the Lees mad about Will Smith, too? Or do they also see the bigger picture, the one that Hubert's decades-old rage won't allow for?  
For the sake of argument, let's say Hubert is right, and Pinkett Smith is boycotting the Oscars because she's mad that her husband didn't get nominated. OK, but the exclusion of black actors still exists. Is that issue only worth being addressed by people who don't have any personal stake in the awards? Or should it not be addressed at all?
Hubert takes great issue with both of the Smiths—even though Will Smith has said nothing at all about this—asking other actors to boycott the show. I don't find Pinkett Smith's request unreasonable. I mean, showing up every year, being politically correct, being just so honored to get in the room and pretending that everything is fine obviously isn't getting people nominated. Insanity is doing the same thing and expecting a different result. Maybe staying home to point out just how terrible their treatment in the industry is will make a point and things will change. I dunno.
What I do know: A boycott was effective in 1989 when Will Smith and DJ Jazzy Jeff actually won a Grammy, then skipped the awards (along with Russell Simmons and several other popular hip-hop acts) because the powers that be wouldn't televise the presentation of the then-new rap award. The next year, not only did the show air hip-hop awards, but Smith and Jeff also performed.
Demetria Lucas D'Oyley is a contributing editor at The Root, a life coach and the author of Don't Waste Your Pretty: The Go-to Guide for Making Smarter Decisions in Life & Love as well as A Belle in Brooklyn: The Go-to Girl for Advice on Living Your Best Single Life. Follow her on Twitter.