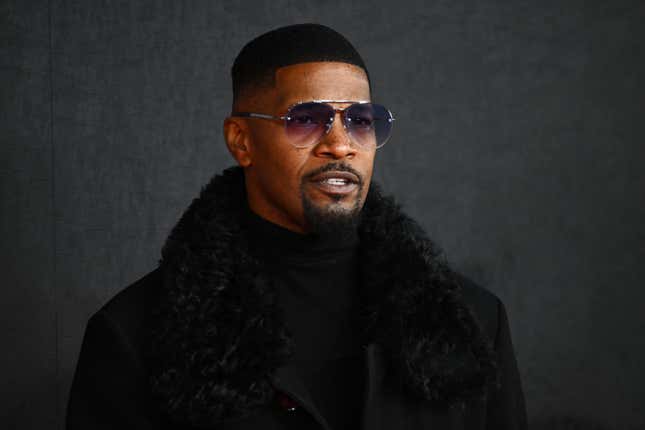 Playing God in movies and TV is tricky. Whether an actor chooses to play it straight and take the bible literally, or spice things up and have fun with the role, someone is going to be offended and upset. These are questions Jamie Foxx likely asked himself before he signed on to play God in the upcoming film Not Another Church Movie. According to Deadline, the movie stars Kevin Daniels as Taylor Parry, "an ambitious young man given a holy mission from God himself: to tell his family's stories and inspire his community."

Jamie Foxx In They Cloned Tyrone Is Our TV Pick of the Week
While we don't know what direction the Ray star will take his performance in, no one hires Jamie Foxx to get a bland, one note character. Honestly, I hope his God is a comedian who does impressions and randomly starts singing R&B jams. Perhaps he'll draw inspiration from other actors' memorable portrayals of the almighty creator.
Morgan Freeman - Bruce Almighty, Evan Almighty
His voice has become so recognizable and such an essential part of pop culture, it was inevitable that Morgan Freeman would play God. Let's be honest: He's the best part of Bruce Almighty, and the main reason the sequel, Evan Almighty, was made. We got so used to seeing the Oscar winner in serious dramatic roles, we forgot he could do comedy until this movie. His performance is the perfect blend of all-knowing omnipotence and a deity who doesn't take himself too seriously. Freeman delivered what has become the quintessential portrayal of God.
Whoopi Goldberg - A Little Bit of Heaven
In this rom-com starring Kate Hudson, God appears to her as Whoopi Goldberg because her character loves the actress/comedian. God admits that she's also a fan of the EGOT winner. As you would expect, Whoopi's version of God is a no-nonsense, compassionate entity whose wisdom and understanding make the story feel more important. If God is going to appear to you as one of your favorite entertainers, you could do a lot worse than Whoopi. As a bonus, The View host also played The Boss in It's a Very Merry Muppet Christmas Movie. Not only has she played God twice, she's portrayed wildly different characterizations of the deity.
Dennis Haysbert - Lucifer
In the story of the FOX sci-fi/fantasy drama, Lucifer is just a rebellious son who acts out because he doesn't think his father loves him. When he finally appears on-screen in Season 5, he's characterized as a father trying to figure out which of his children is worthy of taking over the family business. Yes, there's a lot of mythology happening alongside that story, but making the creator feel more human made this version standout from other portrayals. And Dennis Haysbert brings gravitas to every role he plays, which made him perfectly cast.
I hope Jamie Foxx puts his own spin on playing God, but I also want to see him add in some of best elements of other on-screen portrayals.