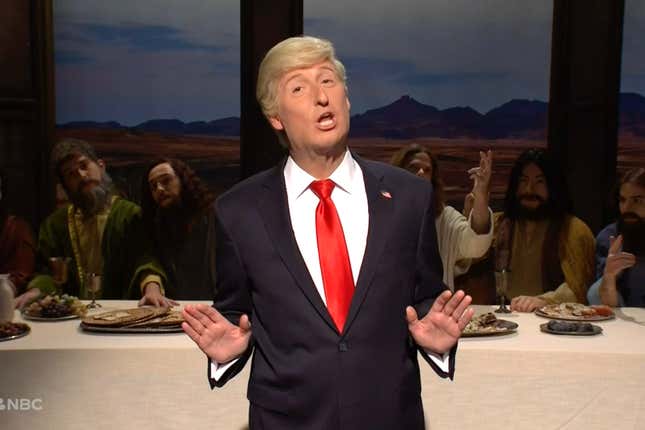 Last week, Donald Trump pleaded not guilty to 34 counts of falsifying business records and conspiracy for his alleged role in hush money payments to two women toward the end of his 2016 presidential campaign. This historic moment was the first time a former president was indicted for his alleged crimes. Of course, Republicans couldn't wait to defend Trump with any justification for his behavior that they deemed viable.
Donald Trump Must Never Hold Public Office Again, Period
This included his lawyer, Alina Habba, claiming Trump's New York City indictment puts him in the leagues of Tupac Shakur and the Notorious B.I.G. Habba. "Donald Trump is Tupac. Donald Trump's Biggie Smalls, he's better than Tupac. I'm east coast, so I love Biggie," Habba said. "Donald Trump is his own brand. He is everything. This is just gonna boost him, we've seen it in the polls. It's not a question, it's a fact."
Shockingly, this would be the least incendiary statement the right would say about Trump's indictment. Resident Republican bigot Marjorie Taylor Greene compared Trump's prosecution to the persecution of Jesus Christ during an interview. Greene traveled to Manhattan to protest Trump's arraignment, discussed the timing of the arraignment before invoking the name of Christ.
"Nelson Mandela was arrested, served time in prison. Jesus! Jesus was arrested and murdered by the Roman government," she pathetically commented. "There have been many people throughout history that have been arrested and persecuted by radical corrupt governments, and it's beginning today in New York City."
Trump supporter and attorney Joseph McBride said on social media last month that "President Trump will be arrested during Lent—a time of suffering and purification for the followers of Jesus Christ. As Christ was crucified, and then rose again on the 3rd day, so too will @realDonaldTrump. Violence is never the answer. Winning the election is. Vote for Trump!"
Nothing is beneath the right to cling to power and propping up Trump as a political sacrifice was perhaps a predictable move. Even though it's obviously outrageous and ridiculously tone-deaf, it's how conservatives have always moved—and it's proven alarmingly effective. Saturday Night Live even mocked the analogy last night. During the Easter-themed opening skit, actor Mikey Day starred as Christ sitting with his disciples during The Last Supper.
However, the gathering was crashed by Trump (portrayed by James Austin Johnson) who challenged Christ's assertions of persecution. "Sound familiar? A famous, wonderful man arrested for no reason at all," Johnson said as the former president. "As we speak, I am being persecuted on a level the likes of which the world has never seen, even worse than the late, great Jesus."
Johnson also called Florida Governor Ron DeSantis his own version of judas. "Ron DeSantis came to me, tears in his eyes, he said, 'Help me, Mr. Trump, I'm going to lose my election.' "So I very generously pretended to like him, and then he did a Judas, and now he can't even get the gays out of Disney World." Johnson continued:
"Mr. Jesus, quite a guy, but now people are saying perhaps I'm even better than Jesus because I'm a self-made billionaire and Christ was, let's call it what it is, a nepo baby. I mean, his dad was God: It's pretty easy to start a religion when your dad is God." Though the number was comical, sadly it wasn't far-fetched. The country has seen—and suffered because of—the fanaticism of the right.
The irreparable damage conservatives have done to Americans in the name of religion continues to harm marginalized and vulnerabilities groups. Whether its laws that attempt to eradicate trans people, abolish women's rights, employ deadly police forces or emphatically uphold the right to bear arms, Christianity has become the go-to excuse for Republicans to act however they like.
In other words, Trump's martyrdom is just a symptom of a much larger—and much more dangerous—problem.