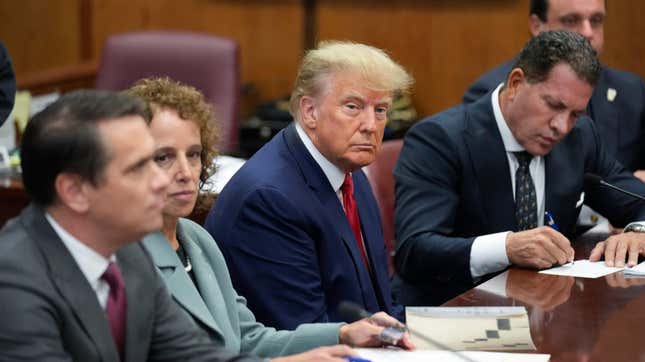 On Tuesday, Former President Donald Trump was arrested. He surrendered to authorities at the courthouse in Manhattan at around 1:30 p.m. ET. Trump was fingerprinted and then arraigned in court before Judge Juan Merchan around 2:30 p.m. ET. He entered the courtroom, looking solemn. Trump was indicted on dozens of counts related to document fraud, but because the indictment against him was under seal, the charges were unknown. When he was arraigned, they were finally unsealed and made public.
Donald Trump Must Never Hold Public Office Again, Period
He pleaded not guilty to 34 counts of falsifying business records and conspiracy for his alleged role in hush money payments to two women toward the end of his 2016 presidential campaign. The indictment is the first against a former president.
The charges stemmed from an investigation by Manhattan District Attorney Alvin Bragg into hush money payments to two women who allegedly had affairs with Trump. Trump has insisted that their claims are false. Both Anti-Trump and pro-Trump protesters, as well as the media, were extremely visible outside the courthouse.

The Root was outside the courthouse prior to Trump's arraignment. Though the crowd didn't see Trump enter the building, his detractors were chanting "lock him up" on their side which was separated by a barrier. Anti-Trump folks outnumbered Trump supporters, with a number of them sporting Black Lives Matter t-shirts. There were no threats of violence during the demonstration and a few people in attendance were clamoring cow bells to imitate the sound of a jail cell closing.
Reps. Marjorie Taylor Greene, R-Ga., and George Santos, R-N.Y., made brief appearances to join Trump supporters protesting against his indictment but left when things became too chaotic. A former Trump aide still close to the former president says he has "been in good spirits," but "the next couple days will hurt." Trump plans to give a speech tonight at Mar-a-Lago.