The walls are closing in on the deplorable administration as President Donald Trump's personal fixer and lawyer, Michael Cohen, has reportedly entered into a plea agreement with Manhattan federal prosecutors Tuesday.

According to the New York Post, terms of the plea require Cohen to cooperate with special counsel Robert Mueller into his investigation of Russia meddling in the 2016 election.

But CNN notes that terms of the agreement have yet to be confirmed and added that Cohen has not agreed to assist Mueller in his investigation.
Cohen's plea agreement is a huge blow to Trump, as Cohen was Trump's personal attorney for years before Trump became president.
"The guy who knows where all the bodies are buried," Seth Hettena, a veteran journalist who has chronicled Trump's business career, told ABC News.
G/O Media may get a commission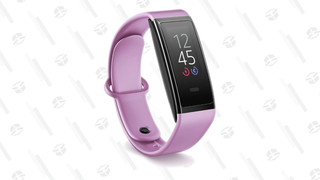 44% Off
Amazon Halo View Fitness Tracker
Sources told CNN that the potential plea deal would not require Cohen to cooperate with the government, but by having Cohen plea out, it would avoid the sensationalism that a potential trial would bring.
Here's how CNN explains the fallout since Cohen's arrest:

Cohen was part of Trump's inner circle for more than a decade, working as his personal attorney at the Trump Organization and continuing to advise the President after the election. Cohen once said he would take a bullet for Trump, but the relationship between the two men has frayed since an FBI raid in April of Cohen's office, hotel room and home.

Trump has distanced himself from Cohen, who has told friends he has felt isolated, according to the friends. Last month, Cohen told ABC News his loyalty is to his family and country first, not the President.

On Tuesday morning, Cohen was seen entering his attorney's office and did not respond to questions. Cohen's attorneys, Guy Petrillo and Lanny Davis, didn't immediately respond to requests for comment. A spokesman for the US attorney's office declined to comment.

The Cohen investigation was referred to the Southern District of New York by special counsel Robert Mueller. If the plea deal does not include cooperation by Cohen, then it is unclear if he would follow through on his previous assertion to friends, according to sources, that he is willing to talk to Mueller.
The majority of Cohen's charges stem from personal financial dealings through Cohen's taxi medallion business and "loans from two financial institutions that have catered to the taxi industry," CNN reports. There are also questions as to whether Cohen properly reported income from the taxi business to the Internal Revenue Service.
Prosecutors declined the Post's request for comment, and Cohen's lawyer, Lanny Davis, did not immediately respond to the Post's request for comment.
This news is breaking, please check back for updates.