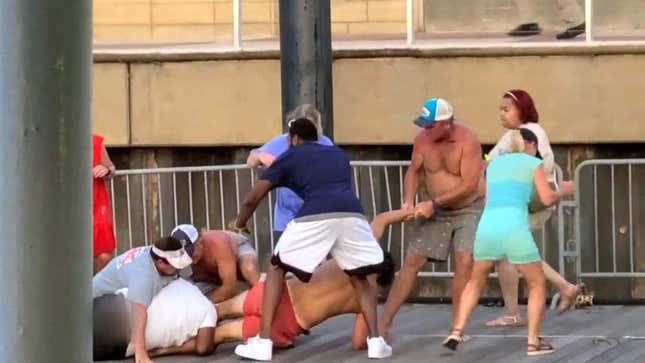 An eyewitness to the now infamous Montgomery brawl claims that one of the white men who attacked the lone Black co-captain, Damien Pickett, yelled a racial slur before running down the dock to fight him.
Comedian London Hughes Talks New Book, Parents Watching Her Very Sexual Comedy, & Beyoncé
New legal documents obtained by TMZ reveal that Crystal Warren, who worked on the Harriott II Riverboat, told authorities that before attacking Pickett, the white male yelled, "Fuck that nigger" and threatened to use a gun on him.
Warren also said that the slur was hurled after Pickett moved a few smaller boats that were preventing the riverboat from docking. She explained to police that the riverboat captain at first simply asked the boat owners to move their boat.
Their response, Warren claimed, was one consisting of middle fingers and curse words from the men on the boat. The riverboat was allegedly stuck for 17 minutes until a smaller commercial boat picked up a deckhand along with her 16-year-old son from the riverboat and dropped them off on the dock.
Warren stated that the deckhand and her son moved the boats that were blocking the dock and tied them back up. That's when she heard on of the men yelling the n-word. Three white men were charged with assault after the attack.
Montgomery Police Chief Darryl J. Albert gave a statement to reporters Tuesday that three men aboard a private pontoon boat—Richard Roberts, 48; Allen Todd, 23; and Zachery Shipman, 25—have four warrants pending in the attack on Pickett.
Harriott II captain Jim Kittrell told media outlets from the start that he believed the attack on Pickett was "racially motivated." Authorities said that they had a discussion with the FBI and are unable to charge the white men with a hate crime or with inciting a riot.