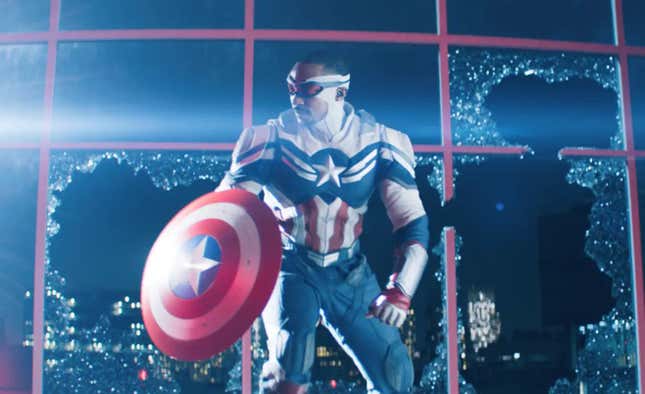 Even though we're still about a year away from the release of Captain America 4, that doesn't mean we don't have plenty of news and fan theories. First of all, the film, once titled New World Order, is now called Captain America: Brave New World. Set for release on May 3, 2024, the movie stars Anthony Mackie as Sam Wilson/Captain America, Danny Ramirez as Sam's new partner, Joaquin Torres / Falcon, and Carl Lumbly as Isaiah Bradley. The Incredible Hulk's Liv Tyler returns as Betty Ross and Tim Blake Nelson is back as Samuel Sterns / The Leader. Harrison Ford takes over for the late William Hurt as Thaddeus "Thunderbolt" Ross, who is now the President of the United States. Since this is the MCU, that's all we know about the film. However, Marvel Studios was nice enough to include a first look photo of Ford and Mackie with the film's title change news.

2023 Oscars: Ruth Carter On Turning Angela Bassett Into A Queen Through Costume
Captain America: Sam Wilson
When we last saw Sam in The Falcon and the Winter Soldier, Sam had fully embraced the Captain America mantle and was ready to honor his friend Steve. Unlike many of his friends, Sam is just a regular guy with no powers. Even though he's been fighting alongside them for years, there will definitely be an adjustment now that there's an increased level of threats and scrutiny coming his way. He also has a partner who's new to the superhero world, so we'll get to see him as a mentor.
Sam has never been the idealist that Steve was, so his approach to saving the world is going to come from a different place. It's really important that the film acknowledges those fundamental differences in perspective. He may wear the red, white and blue, but we know he's very aware that he will never be treated the same as Steve Rogers.
Who Is the Real Big Bad?
We assume that Nelson's The Leader will be a villain, but will he be the movie's big bad? Honestly, probably not. Even though Marvel Studios likes to switch things up, the character isn't necessarily big bad material. With that in mind, The Leader could be a misdirect to keep us from figuring out the real villain behind Brave New World. Personally, my money is on President Ross. From the moment we met him in The Incredible Hulk, he's been nothing but trouble for our heroes. I have no faith that Thanos snapping away half the universe has changed him. If anything, it's probably made him worse. Plus, the movie comes out after Secret Invasion, and you know whatever happens there is going to shake the government's foundation. Seriously, nothing good can come from having that guy as POTUS.
It seemed like HYDRA was exposed and defeated in Captain America: The Winter Soldier and Agents of S.H.I.E.L.D., however, in the comics, the evil group is never really gone. Fan theories are guessing that Arnim Zola's previous reference to a "new world order" heavily hints at the return of HYDRA. I can't say it would be completely surprising to find out that it was able to make a comeback in the wake of "the blip." A power vacuum like that would definitely leave room for the sinister organization to take advantage of the chaos.
What Is His Place in the MCU?
As the MCU transitions into the multiverse and introduces a new crop of heroes, we're left to wonder what Sam's role in the new Avengers will be. With Thor and Bruce off-world most of the time, and Hawkeye likely retired, Sam, Stephen Strange and James "Rhodey" Rhodes are the elder statesmen of the superhero team. Will he lead the team as Steve once did, or will he be content to once again act as the voice of reason?
Wakanda Forever
Sam hasn't spent a lot of time in Wakanda, but since that's where his suit and tech come from there's a chance we could finally see him become more involved with Shuri; M'Baku; Okoye; and Everett Ross. And last, but certainly not least, Sebastian Stan is not listed in the cast, but we can't have Sam saving the day without his hilarious banter with Bucky. I will not accept a world where we don't get a surprise cameo.
Captain America: Brave New World is scheduled for release on May 3, 2023.