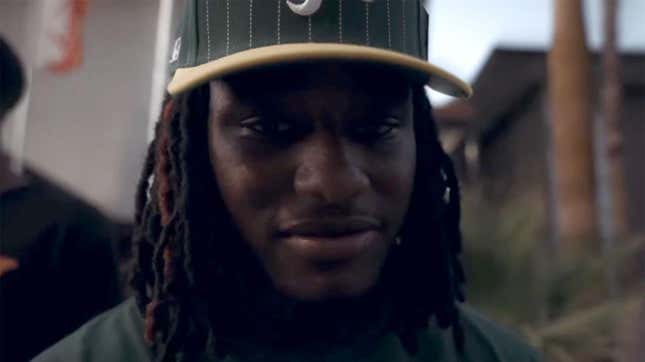 "The Story of Gangstalicious," season 1 episode 6 of The Boondocks, is one of the greatest episodes of an animated series in American TV history.
Tackling A Black Maternal Health Crisis & Embracing Reproductive Justice | The Root Institute
It follows suburban transplant Huey Freeman who is befriended by a rapper with a terrible habit of detailing his own crimes in his lyrics while professing himself a disciple of a toxic "Stop Snitching" culture. Predictably, it things don't end well.
The ep originally aired on Dec. 11, 2005. Eighteen years later, not much has changed.
Kenjuan McDaniel, a rapper from Las Vegas who goes by "TheBiggestFinn 4800" on his YouTube channel, was arrested and charged last week with murder with a deadly weapon and violation of probation stemming from an incident where he allegedly shot and killed a man two years ago, according to FOX5 Vegas.
In September 2021, Las Vegas police responded to a call where they found Randall Wallace, a man who had been fatally shot in the head.
According to the Las Vegas Metropolitan Police Department, witnesses saw a Black man running from the scene in a white vehicle shortly after the shooting. A month later, one of the witnesses claimed to have more information about the shooter, leading them to find McDaniel.
But Kenjuan also made it easier for authorities. In July, a music video titled "Fadee Free" was released and the suspect was heard rapping throughout the song, "I be the reason why he's dead."
During one part of the song he says, "I be the reason why he's dead, we still taunt him when he die, not the reason he's dead, so celebrate the reason why his momma cry."
He's currently being held in jail without bail and his next hearing is scheduled for September 7.
Although he's the latest, McDaniel is not even the most high-profile rapper to allegedly tell on himself in a song.
As hip-hop fans are still waiting on the outcome of the YSL RICO case, many of the charges brought against the defendants by Fulton County District Attorney Fani Willis are because they rapped about alleged crimes in songs.
But it's also been a point of controversy as many artists and music labels have supported bills that would limit the use of an artist's lyrics as acceptable evidence in court.
In other words, don't expect art to stop imitating life, or vice versa, in hip hop anytime soon.