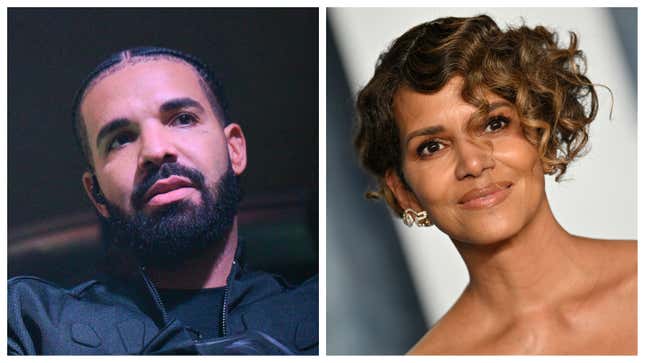 If you spent any significant time on social media over the weekend, then you probably saw that there's reportedly some bad blood bubbling between rap superstar Drake and Oscar-winning actress Halle Berry. But what's really going on?
Well, as Drizzy has been teasing, his forthcoming album, For All the Dogs, is expected to drop here soon. And in anticipation of its release, he decided to release his new single "Slime You Out," featuring SZA, over the weekend. Now while that seems all fine and dandy, where things got a bit ehhh...slimy, is when the "God's Plan" rapper decided to use a picture of Halle getting slimed at the Nickelodeon's Kids' Choice Awards back in 2012 as promo for the song without Halle's consent.
I know what you're probably thinking at this point: That's a popular picture that was plastered everywhere on the internet when it happened and is probably owned by a photography company. Drake probably paid to use it, so what's the issue?

The issue is that, per the Bruised actress, Drake allegedly reached out to get her permission to use the photo and she said no. Yet and still, he used it anyway. This was hinted at in the comment section of a picture she posted to Instagram a day after the song had been released.
"Sometimes you have to be the bigger guy...even if you're a woman," the post read. Later, when a follower asked Halle how she felt about Drake using her as the face of his song in the comments, she replied: "didn't get my permission. That's not cool I thought better of him !"
In a follow-up comment, she added, "hence my post today. When people you admire disappoint you you have to be the bigger person and move on !"
When another commenter questioned why she's bothered by it since the "Way 2 Sexy" rapper paid the price for the pic, Halle responded: "Cuz he asked me and i said NO that's why. Why ask if you intend to do what you want to do ! That was the fuck you to me. Not cool You get it?"
And for those of you in the back who may still be wondering why this is an issue, to put it plainly: it's a more a matter of ethics than legality. Legally, Drake did nothing wrong, he paid the cost, the photo can be used however he saw fit. But on an ethical front, the fact that he reached out to Halle first to get her permission—likely due to the fact that he had some inkling that she might feel some type of way about her face being used for promo that she didn't sign-on to—essentially received a "no-go" from her and still did his own thing makes it all sorts of messed up. And it probably puts a stain on whatever level of friendship the two had beforehand.
I hope it was worth it, Drizzy.