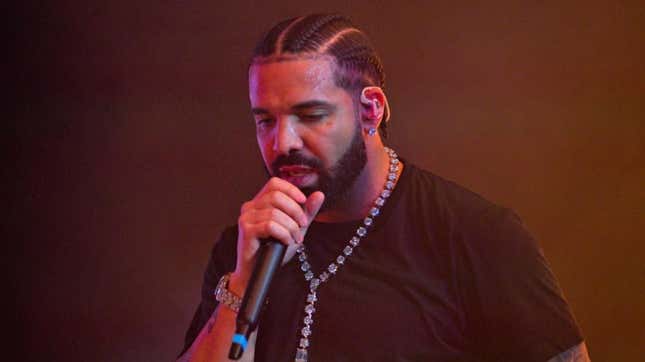 It's a sad day in hip-hop for a lot of people. Not because someone died. But because Drake did not drop his latest studio album, For All the Dogs, which was rumored to be released on August 25.
On Monday, Champagnepapi shared the grim (but dope) album cover for his latest release, simply writing, "FOR ALL THE DOGS. Cover by Adonis."
From there, the hype train went through the roof.
Despite Drizzy never officially announcing when the record would be released, fans convinced themselves that it would be dropping this Friday.

Just a day after the 6God shared his album cover, Amazon Music's official X account shared a post that read, " drizzy's son has a future as a cover artist. New @drake august 25th."
They quickly deleted the repost, but it got fans thinking their dreams may become a reality.
The hype only grew more after a previously published version of an article by Billboard also stated "For All the Dogs, is set to release tomorrow (Aug. 25)." Since, they have also updated their story, changing it to, "For All the Dogs, could be coming soon, but no release date has been announced."
Furthermore, artwork was added to Drake's website that showed Kobe Bryant wearing No. 24 and No. 8 next to the cover art For All the Dogs. Thursday was 8/24, also known as "Kobe Bryant Day."
Put a bow on it. Fans established that Drake was dropping this Friday and nobody (except maybe Drake himself) could tell them otherwise.

So when Thursday night arrived, people were anxiously awaiting for the clock to hit 12:01 a.m. ET so they can listen to Aubrey's latest and greatest masterpiece. Except, that when it had officially become Friday morning, there was no album seen anywhere. Not on Spotify, Apple Music, Tidal, Amazon Music, or any streaming service you could think of. It wasn't here.
I even admit that I refreshed Drake's profile page on streaming sites a couple of times to make sure that I wasn't trippin'. Drizzy really didn't drop his album, and fans made sure that they made their feelings known about it.
Even Lil Yachty, a close friend of Drake, came on social media to clown fans, saying "I know y'all thought For All the Dogs was coming out tonight. Jokes on y'all because nobody ever said that it was. Gotta stop believing shit you hear on the internet."

There it is, hip-hop. Jokes on us. Drake did not drop his much-anticipated album and instead, we have to wait patiently for Champagnepapi himself to announce the official release date. Until then, let's take some advice from Lil Boat and not believe everything social media tells us.